2019 Fall Country Harvest Tractor Pull Winners

2019 LWAS 29th Annual Exposition Pull Winners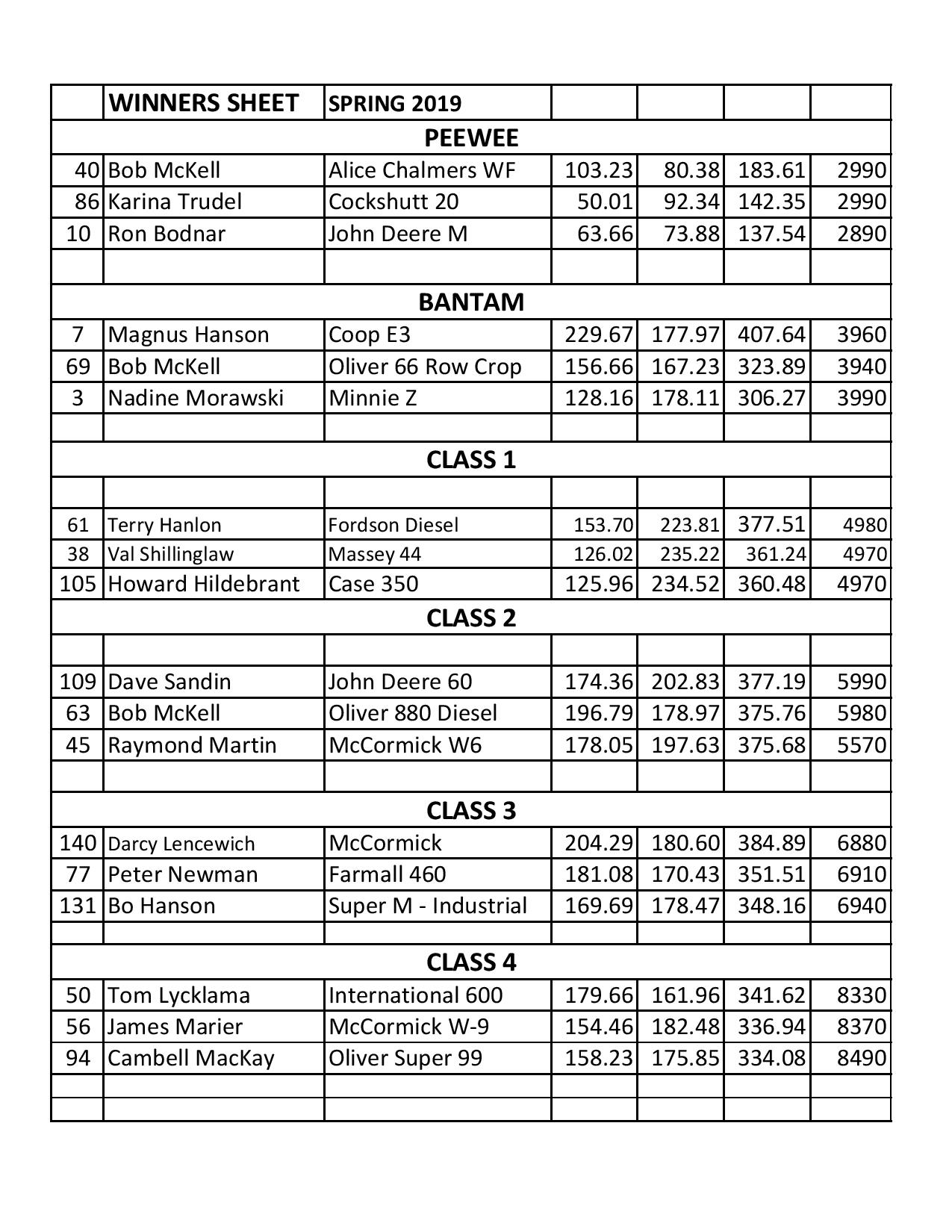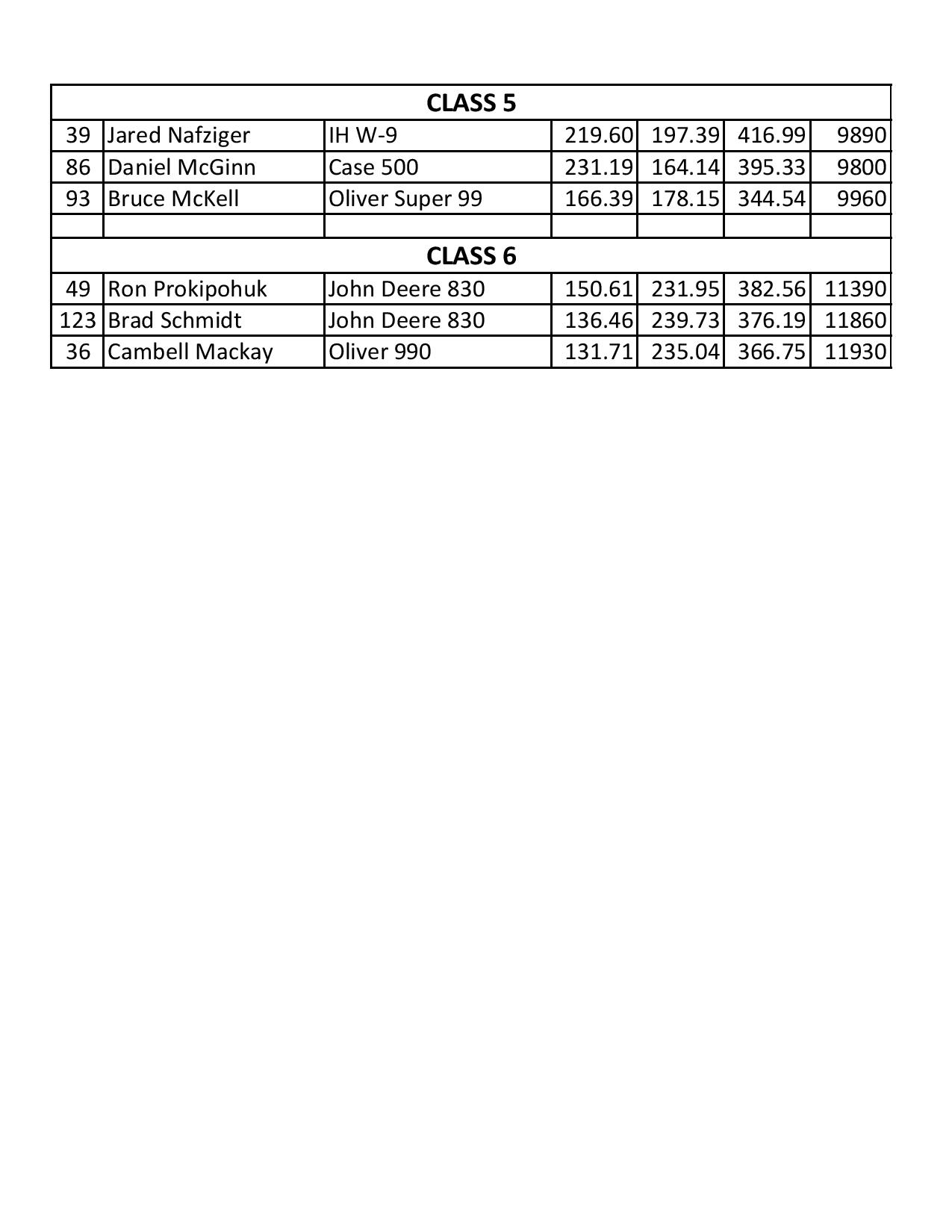 Spring Pull & Rescheduled Fall Harvest Pull - May 25 & 26, 2019 Results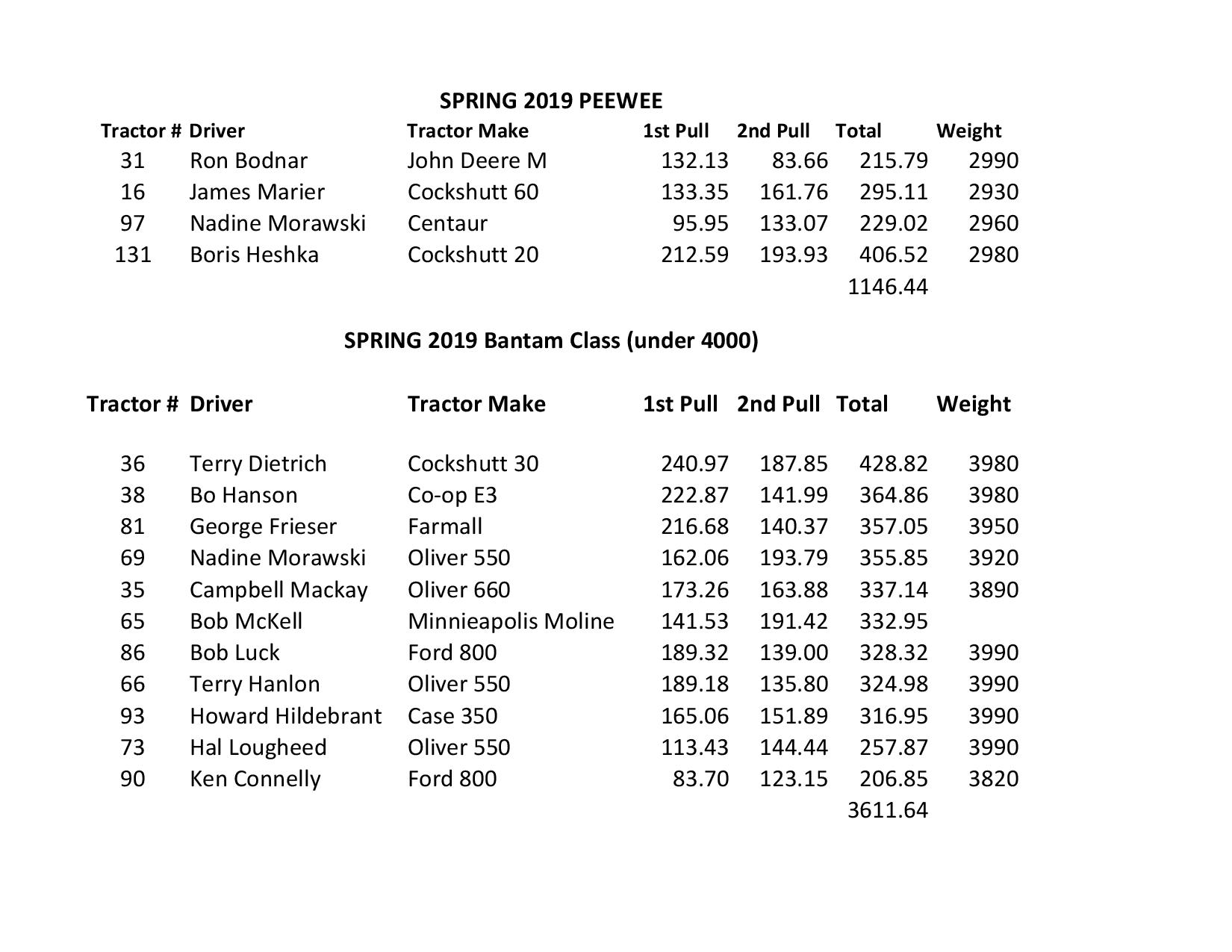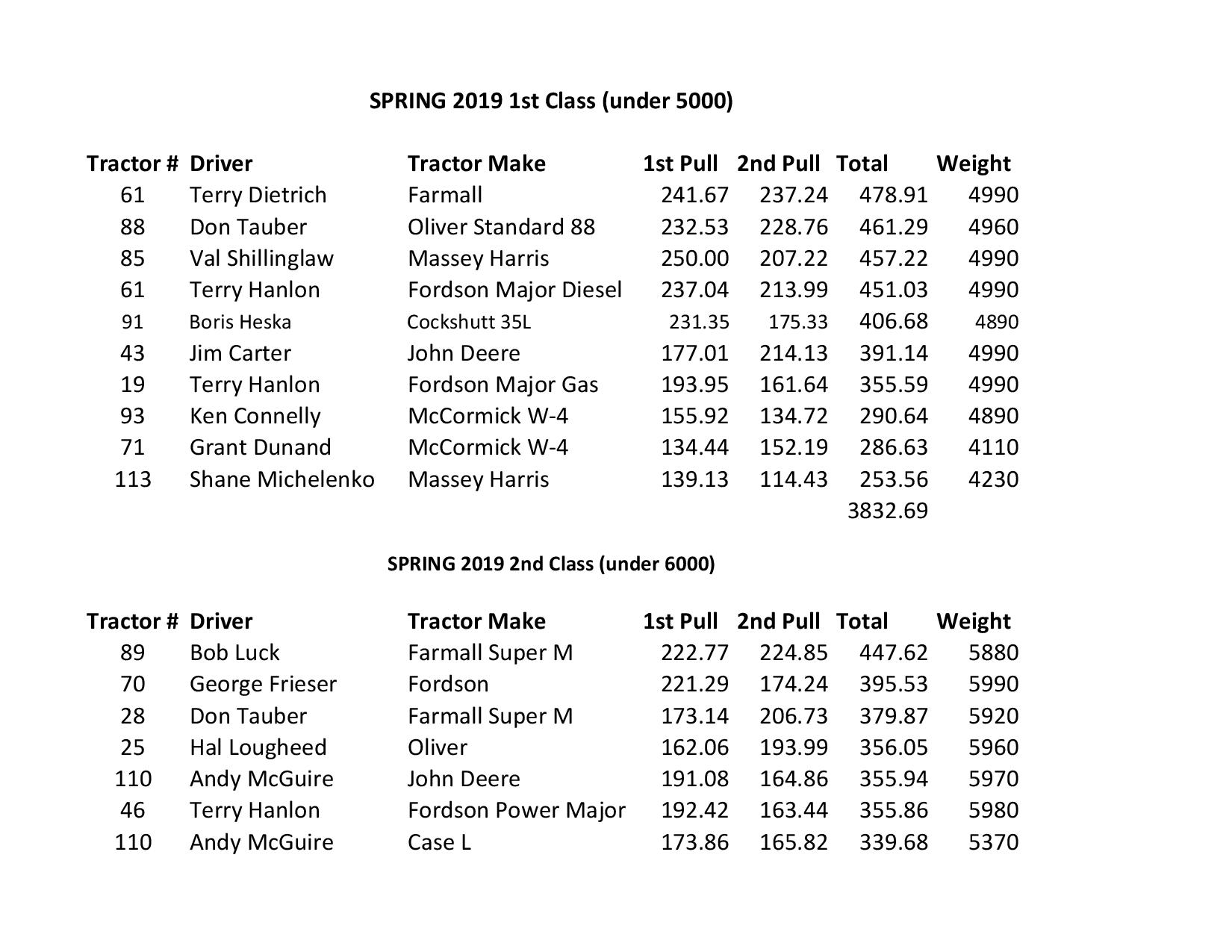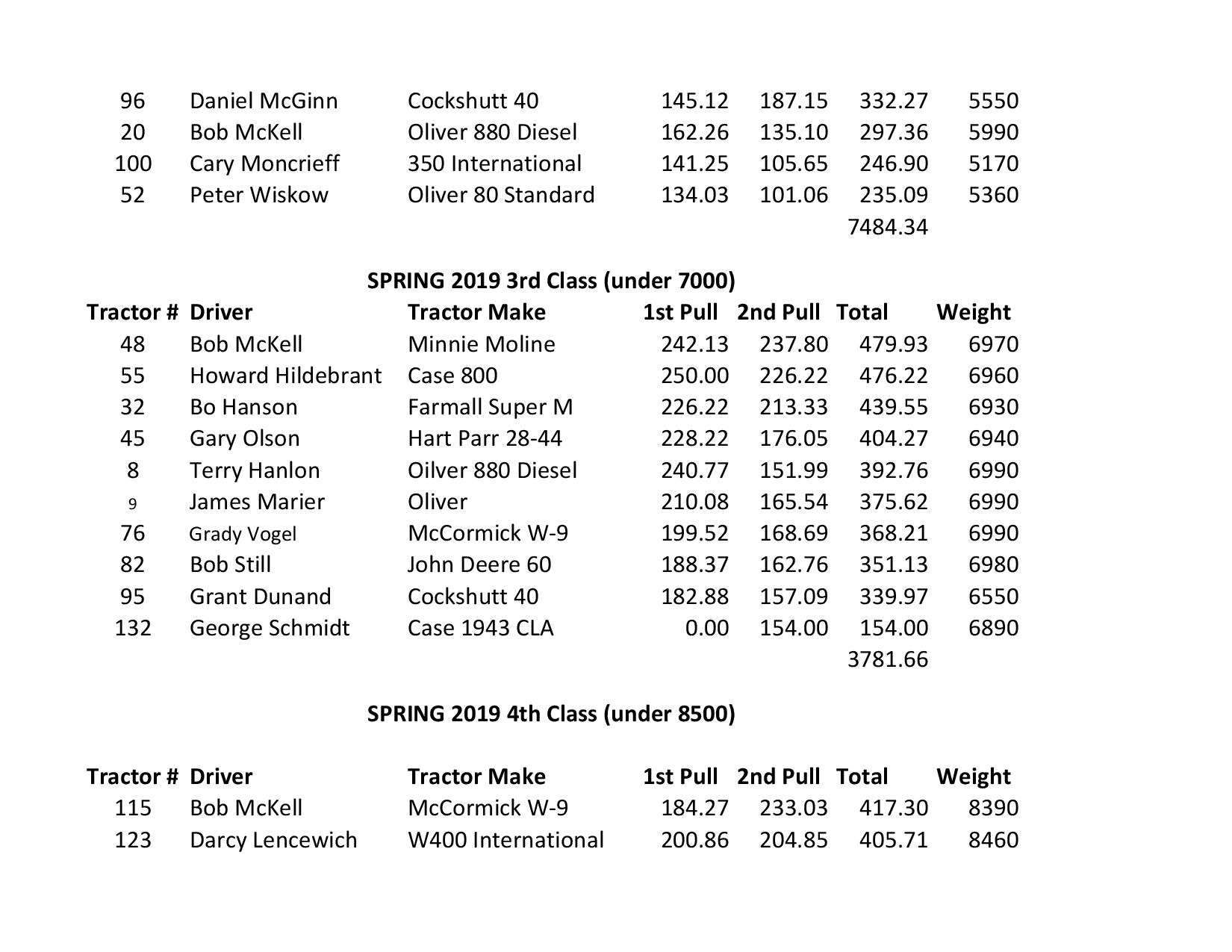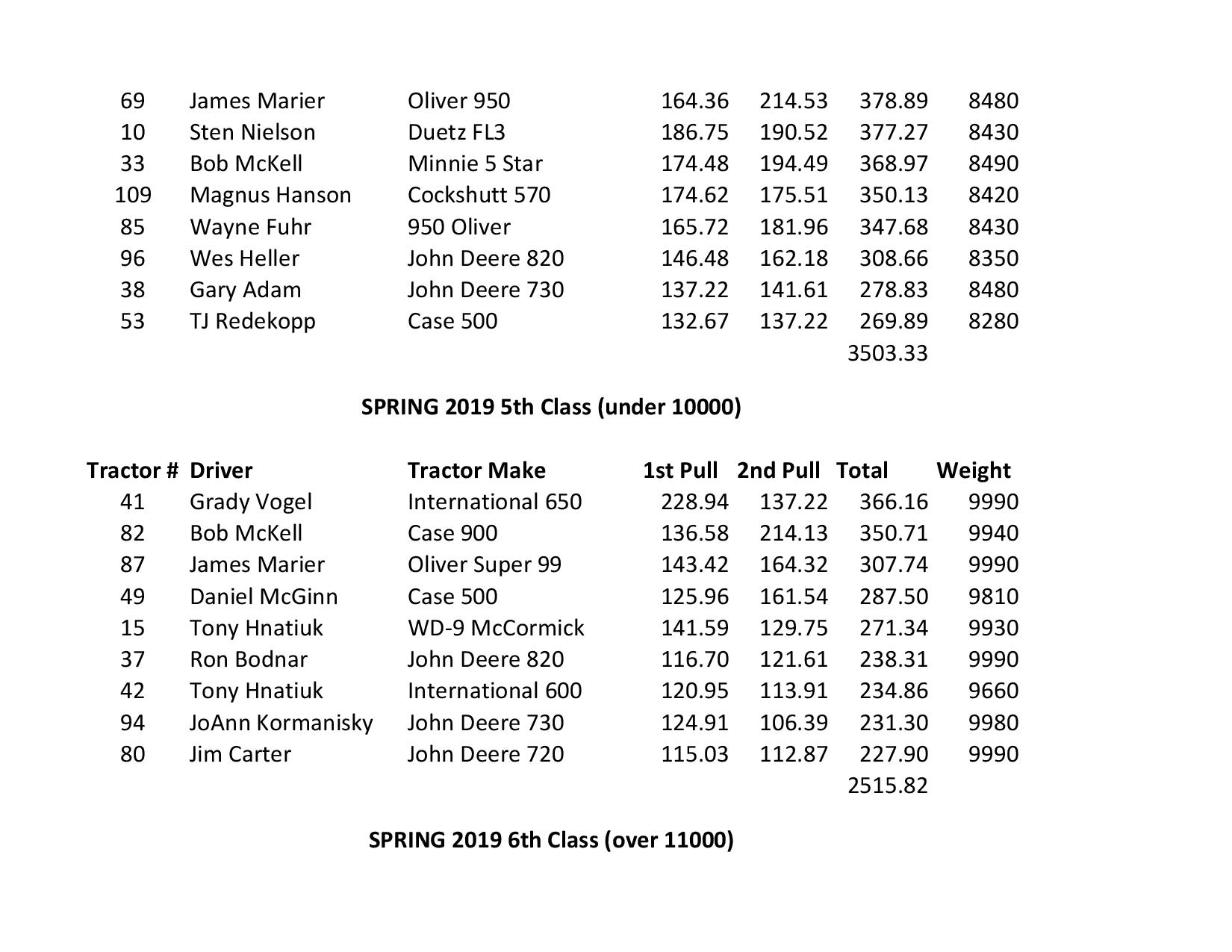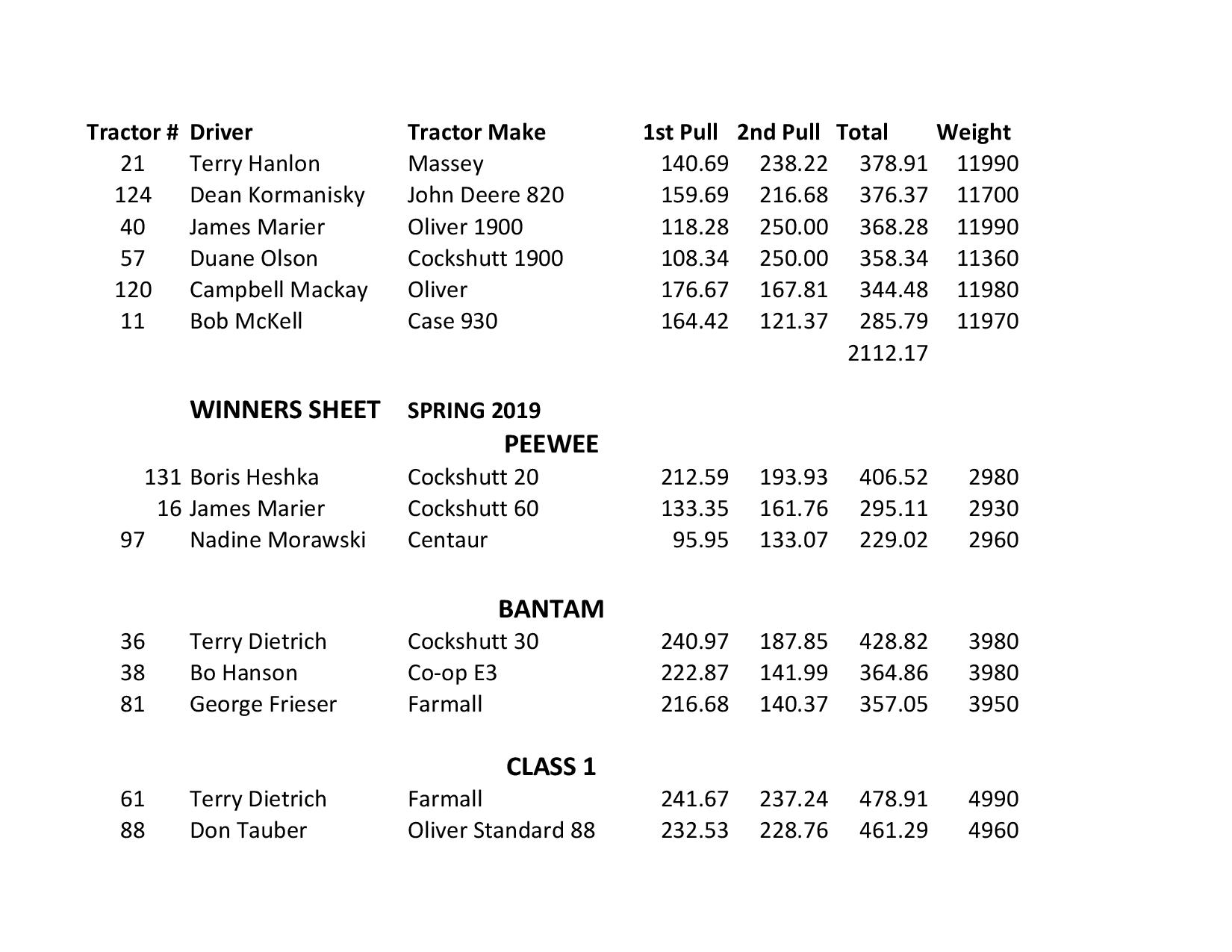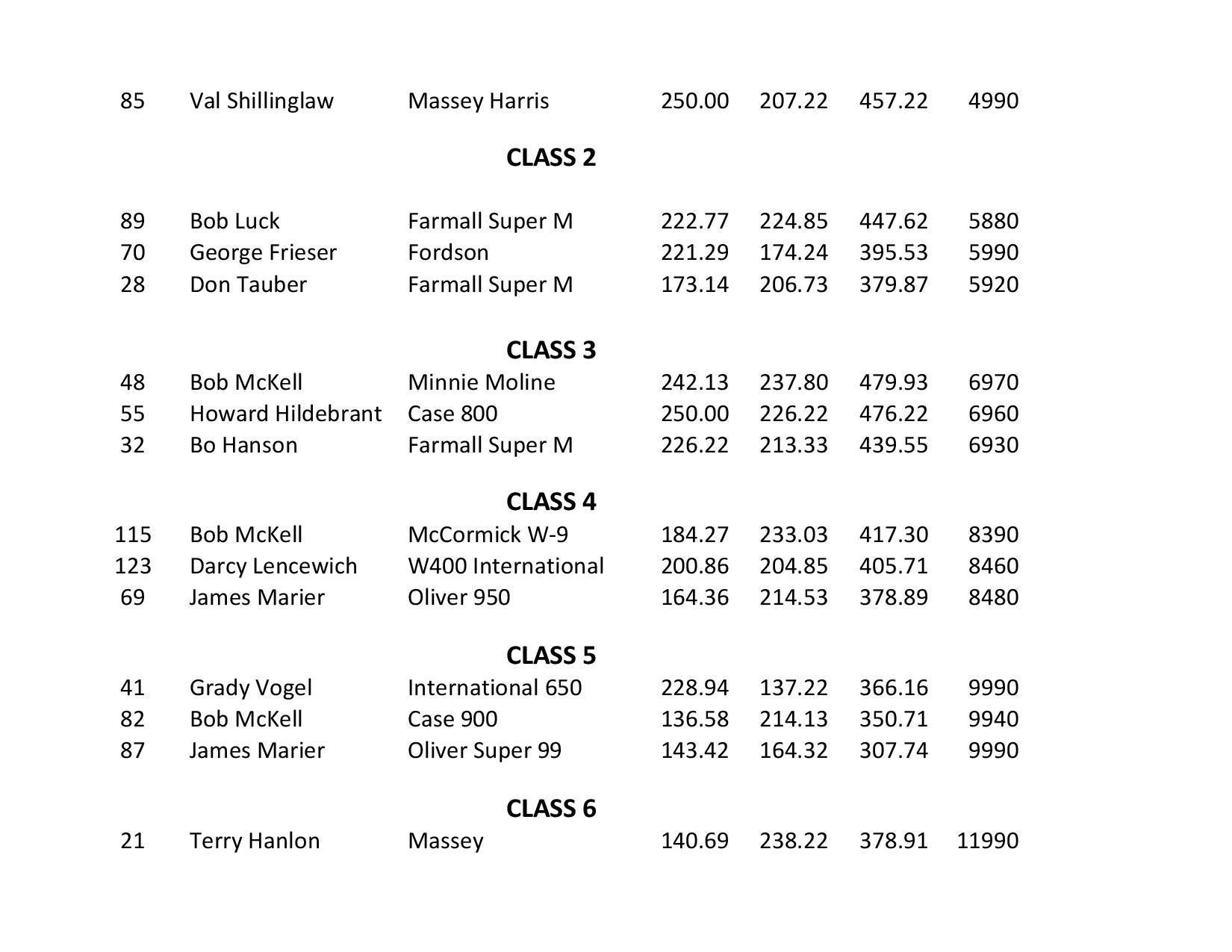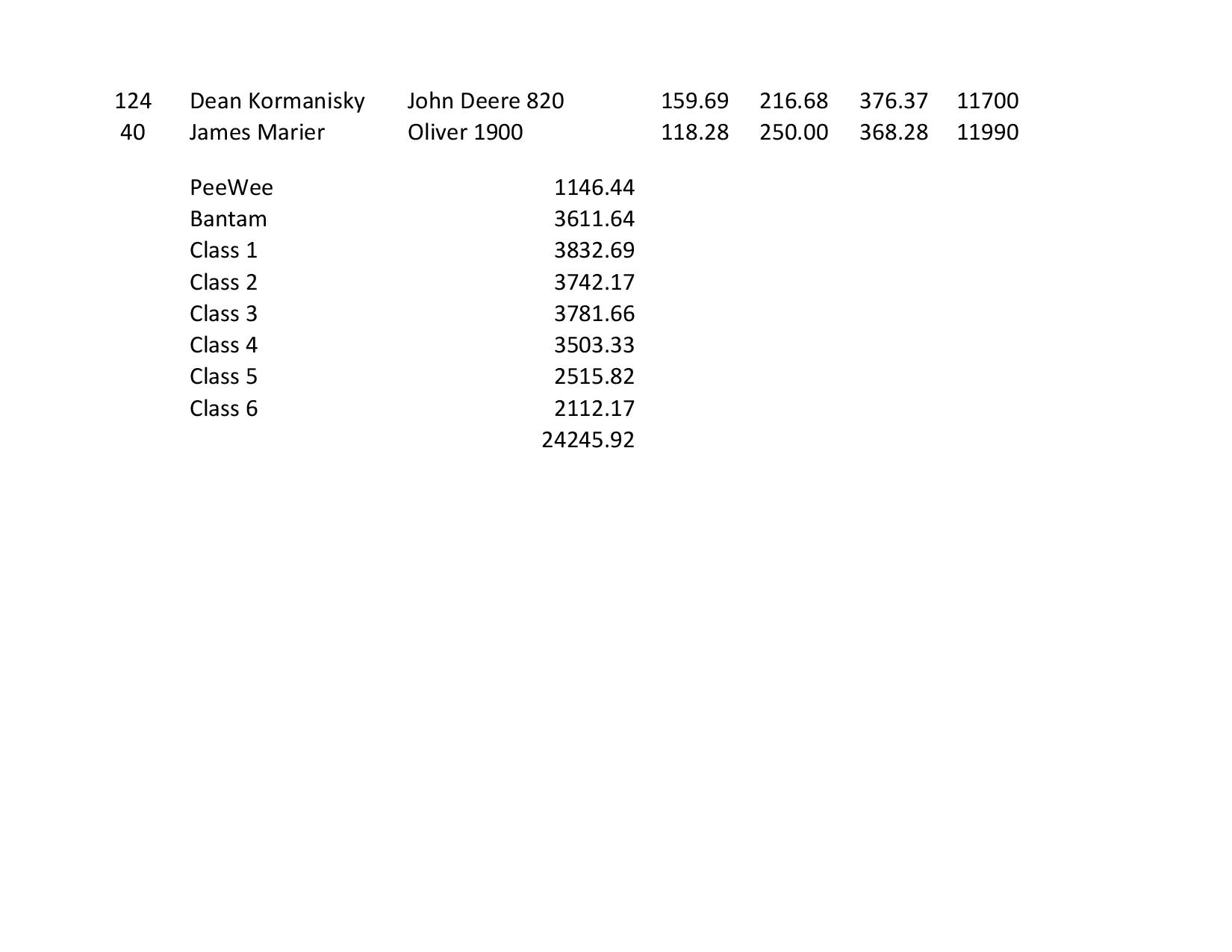 July 21 & 22, 2018 - 28th Annual Exposition Winners 
 
WINNERS SHEET
 
 
 
 
 
PEEWEE
41
Ron Bodnar
John Deere M
115.77
63.24
179.01
2980
 
DYLAN Croghan
Centaur
57.63
92.78
150.4
 
 
James Marrier
Farmall M
68.93
24.11
93.04
 
 
 
 
 
 
 
 
BANTAM
49
Terry Dietrich
Cockshutt 30
250.00
225.18
475.18
3990
8
Terry Hanlon
Oliver 550
243.88
223.07
466.95
3990
96
Hal Lougheed
Oliver 550
240.33
212.17
452.50
3990
 
 
 
 
 
 
 
CLASS 1
81
Don Tauber
1951 Oliver 88
216.40
227.32
443.72
4830
10
Terry Dietrich
McCormick Farmall
226.28
211.3
437.62
 
11
Jim Carter
John Deere
181.54
213.11
394.65
4990
 
 
 
 
 
 
 
CLASS 2
76
Bob Luck
Farmall Super M
219.34
209.30
428.64
5860
98
Dave Lougheed
Oliver 550
195.79
207.72
403.51
5990
35
George Frieser
Fordson Major
198.62
203.45
402.07
5980
CLASS 3
46
Chris Whitford
Minni "U" Special
206.75
225.90
432.65
6900
43
Howard Hildebrant
Case
231.53
199.42
430.95
6990
85
Terry Hanlon
Oliver 880
201.48
210.02
411.50
6990
CLASS 4
90
Bob McKell
Minni 5 Star
242.39
212.85
455.24
8480
31
Lyle Kause
W9 Gas
173.92
216.43
390.35
8460
97
Gary Adam
John Deere 730
182.30
182.90
365.20
8490
 
 
 
 
 
 
 
CLASS 5
41
Lyle Kause
John Deere 830
190.62
197.74
388.36
9980
85
Bob McKell
Oliver Super 99
184.63
187.77
372.40
9990
96
Ron Bodnar
John Deere 820
187.53
135.52
323.05
9990
 
 
 
 
 
 
 
CLASS 6
52
James Marier
Case 930
148.03
100.36
248.39
11990
61
Shain Michelenko
John Deere 830
112.75
133.83
246.58
11840
53
Terry Hanlon
Massy S98
90.28
142.41
232.69
11980
 
 
 
 
 
 
 
July 21 & 22, 2018 - 28th Annual Exposition Results
Leduc West Antique Society 28th Annual Exposition Pull Results 
 
 
 
 
 
 
 
PEEWEE
Tractor #
Driver
Tractor Make
1st Pull
2nd Pull
Total
Weight
41
Ron Bodnar
John Deere M
115.77
63.24
179.01
2980
 
Dylan Croghan
Centaur
57.63
92.78
150.41
 
 
James Marrier
Farmall M
68.93
24.11
93.04
 
 
 
 
 
 
 
 
July 2018 Bantam Class (under 4000)
 
 
 
 
 
 
 
Tractor #
Driver
Tractor Make
1st Pull
2nd Pull
Total
Weight
49
Terry Dietrich
Cockshutt 30
250.00
225.18
475.18
3990
8
Terry Hanlon
Oliver 550
243.88
223.07
466.95
3990
96
Hal Lougheed
Oliver 550
240.33
212.17
452.50
3990
133
Randy Brown
MM ZA5
190.68
250.00
440.68
3980
77
Bob Luck
Ford 800
222.47
214.35
436.82
3990
42
Robin Larsen
Minnieapolis Moline "Z"
195.33
226.54
421.87
3990
48
Howard Hildebrant
Case 350
193.29
226.00
419.29
3990
95
Ken Connelly
Ford 800
238.85
174.56
413.41
3920
70
George Freiser
1945 Farmall
180.86
199.94
380.80
3920
33
Dave Lougheed
Oliver 550
181.22
163.02
344.24
3980
19
Bob McKell
Minnieapolis Moline "Z"
 
 
 
3960
 
 
 
 
 
 
 
July 2018 1st Class (under 5000)
 
 
 
 
 
 
 
Tractor #
Driver
Tractor Make
1st Pull
2nd Pull
Total
Weight
81
Don Tauber
1951 Oliver 88
216.40
227.32
443.72
4830
10
Terry Dietrich
McCormick Farmall
226.28
211.34
437.62
 
11
Jim Carter
John Deere
181.54
213.11
394.65
4990
89
James Marier
Oliver 80
177.75
206.79
384.54
4990
19
Ken Connelly
Super W Four
162.08
219.48
381.56
4680
6
Wayne Hansen
Farmall Super H
183.18
194.91
378.09
4980
 
Bob McKell
Oliver 80
199.24
174.94
374.18
4990
131
Lyle Kause
John Deere B
183.46
190.70
374.16
4960
16
Terry Hanlon
Fordson Major
199.68
166.17
365.85
4990
32
Dave Sandin
John Deere 50
184.61
170.56
355.17
4960
71
Howard Hildebrant
Case
199.78
152.38
352.16
4990
15
Bob Luck
Super W4 
165.78
129.59
295.37
4810
38
Wayne Klapstein
International
115.77
110.40
226.17
4970
DEMO 134
Ron Bodnar
John Deere Crawler
142.65
0.00
142.65
 
 
 
 
 
 
 
 
July 2018 2nd Class (under 6000)
 
 
 
 
 
 
 
Tractor #
Driver
Tractor Make
1st Pull
2nd Pull
Total
Weight
76
Bob Luck
Farmall Super M
219.34
209.30
428.64
5860
98
Dave Lougheed
Oliver 550
195.79
207.72
403.51
5990
35
George Frieser
Fordson Major
198.62
203.45
402.07
5980
78
Chris Whitford
Minni Moline
185.35
212.23
397.58
5900
38
Keith Crocker
Minni U Special
209.92
170.29
380.21
5910
93
Terry Hanlon
Fordson Major Diesel
196.59
176.45
373.04
5970
34
Randy Brown
Minni 47 UTS
158.45
180.58
339.03
5850
28
Bob McKell
Oliver 88
182.60
156.32
338.92
5990
62
Daniel McGinn
Cockshutt 40
164.48
169.23
333.71
5600
14
Peter Vandasselaar
Minni U
192.96
0.00
192.96
5995
46
Taylor Hamoen
John Deere AR
120.51
0.00
120.51
5970
DEMO
Andy McGuire
1936 John Deere
0.00
250.00
250.00
 
 
 
 
 
 
 
 
July 2018 3rd Class (under 7000)
Tractor #
Driver
Tractor Make
1st Pull
2nd Pull
Total
Weight
46
Chris Whitford
Minni "U" Special
206.75
225.90
432.65
6900
43
Howard Hildebrant
Case
231.53
199.42
430.95
6990
85
Terry Hanlon
Oliver 880
201.48
210.02
411.50
6990
91
James Marier
Minni Moline 5 Star
185.37
182.78
368.15
6990
86
Bob McKell
Oliver 880 Diesel Row Crop
176.03
188.74
364.77
6960
88
Nadine Morawski
Oliver 880 Diesel
172.82
186.51
359.33
6930
80
Dylan Croghan
Oliver 880
168.73
184.87
353.60
6990
40
Bill Kittle
Minni MMFTA
129.28
125.38
254.66
6630
124
Del Martin
1954 Farmall M
146.64
0.00
146.64
6980
120
Del Martin
W6
107.04
0.00
107.04
6980
 
 
 
 
 
 
 
July 2018 4th Class (under 8500)
 
 
 
 
 
 
 
Tractor #
Driver
Tractor Make
1st Pull
2nd Pull
Total
Weight
90
Bob McKell
Minni 5 Star
242.39
212.85
455.24
8480
31
Lyle Kause
W9 Gas
173.92
216.43
390.35
8460
97
Gary Adam
John Deere 730
182.30
182.90
365.20
8490
12
William Crocker
Minni GB
146.38
187.67
334.05
8480
93
Randy Brown
Minni GB Diesel
118.10
208.24
326.34
8490
69
Ron Bodnar
John Deere 720
132.17
184.75
316.92
8210
95
Wayne Klapstein
International WD9
134.98
178.95
313.93
8490
55
Terry Dietrich
Case LA
117.60
186.15
303.75
8400
69
Darcy Chalmers
John Deere 720
116.54
184.71
301.25
7780
9
Darcy Chalmers
John Deere 80
107.38
178.79
286.17
8430
20
Shain Michelenko
John Deere 720
126.84
152.82
279.66
8350
61
Carson Luck
Super W9
102.95
165.76
268.71
8410
132
Richard Nesslar
International 560
87.97
173.98
261.95
8470
25
Randy Brown
Minni EBV
99.52
135.92
235.44
7500
37 Demo
Darcy Lencewich
W6-TA 
137.68
227.24
364.92
8770
57
Wes Heller
John Deere 830
131.29
0.00
131.29
8330
87 DEMO
Bob Beveridge
CCIL 570
113.15
0.00
113.15
8380
 
 
 
 
 
 
 
July 2018 5th Class (under 10000)
 
 
 
 
 
 
 
Tractor #
Driver
Tractor Make
1st Pull
2nd Pull
Total
Weight
41
Lyle Kause
John Deere 830
190.62
197.74
388.36
9980
85
Bob McKell
Oliver Super 99
184.63
187.77
372.40
9990
96
Ron Bodnar
John Deere 820
187.53
135.52
323.05
9990
123
Darcy Chalmers
1958 john Deere 820
142.15
169.59
311.74
9950
 
Richard Nessler
International 660
127.20
173.32
300.52
9870
82
Daniel McGinn
Case 500
151.29
146.72
298.01
9780
73
Joanne Kormanisky
John Deere 730
154.02
119.26
273.28
9950
94
Dylan Croghan
Case 900
136.82
133.69
270.51
9900
33
Jim Carter
John Deere 720
128.32
135.08
263.40
9970
 
 
 
 
 
 
 
July 2018 6th Class (over 11000)
 
 
 
 
 
 
 
Tractor #
Driver
Tractor Make
1st Pull
2nd Pull
Total
Weight
52
James Marier
Case 930
148.03
100.36
248.39
11990
61
Shain Michelenko
John Deere 830
112.75
133.83
246.58
11840
53
Terry Hanlon
Massy S98
90.28
142.41
232.69
11980
65
Ron Prokipchuk
John Deere 830
107.48
119.50
226.98
11640
45
Dean Kormanisky
John Deere 820
116.44
109.50
225.94
11660
92
Ron Bodnar
John Deere 830
101.56
103.49
205.05
11930
82
Bob McKell
Oliver 
92.22
96.83
189.05
11990
May 26, 2018 - Spring Pull Winners
 
WINNERS SHEET
 
 
 
 
 
VINTAGE BANTAM
62
Terry Dietrich
Cockshutt 30
207.16
250.00
457.16
3990
43
Howard Hildebrant
Case S
191.16
245.4
436.54
3990
77
Boris Heshka
Rockoll 77 B
184.29
225.68
409.97
3980
 
 
 
 
 
 
 
BANTAM
56
Magnus Hanson
CO-OP
185.73
227.50
413.23
3940
2
Terry Hanlon
Oliver 550
159.01
250.00
409.01
3990
 
Bob McKell
Minni Z
205.89
177.81
383.70
3990
 
 
 
 
 
 
 
CLASS 1
19
Bob McKell
Oliver 80 Gas
188.88
250.00
438.88
4980
44
Howard Hildebrant
Case 350
223.05
161.90
384.95
4990
6
Lyle Kause
John Deere B
188.35
165.92
354.27
4960
 
 
 
 
 
 
 
CLASS 2
4
Terry Hanlon
Fordson Power Major
197.07
175.89
372.96
5970
29
Bob McKell
Super 88
175.37
170.50
345.87
5990
45
Jim Carter
John Deere 50
145.70
163.26
308.96
5990
CLASS 3
27
Bob McKell
Oliver 880 Gas
250.00
250.00
500.00
6980
47
Magnus Hanson
Super M
180.74
248.45
429.19
6880
46
Howard Fleming
Cockshutt 550
192.66
213.69
406.35
6900
CLASS 4
24
Bob McKell
Minniapolis Moline
113.33
250.00
363.33
8490
58
Gary Adam
John Deere 730
99.54
209.36
308.90
8495
18
Lyle Kause
International W9 Gas
103.63
180.50
284.13
8480
 
 
 
 
 
 
 
CLASS 5
23
Bob McKell
Oliver 99
122.27
222.21
344.48
9950
7
Lyle Kause
John Deere 830 diesel
112.79
182.78
295.57
9950
3
Ron Bodnar
John Deere 820
108.36
168.35
276.71
9980
 
 
 
 
 
 
 
CLASS 6
29
Bob McKell
Case 930
144.52
121.23
265.75
11990
61
Shain Michelanko
John Deere 830
129.71
129.61
259.32
11800
30
James Marrier
Oliver 1900
122.29
122.77
245.06
11990
May 26, 2018 Spring Pull Results 
 
Vintage Bantam Class (under 4000)
 
 
 
 
 
 
 
Tractor #
Driver
Tractor Make
1st Pull
2nd Pull
Total
Weight
43
Howard Hildebrant
Case S
191.16
245.38
436.54
3990
62
Terry Dietrich
Cockshutt 30
207.16
250.00
457.16
3990
77
Boris Heshka
Rockoll 77 B
184.29
225.68
409.97
3980
 
 
 
 
 
1303.67
 
 
 
 
 
 
 
 
Bantam Class (under 4000)
 
 
 
 
 
 
 
Tractor #
Driver
Tractor Make
1st Pull
2nd Pull
Total
Weight
56
Magnus Hanson
CO-OP
185.73
227.50
413.23
3940
2
Terry Hanlon
Oliver 550
159.01
250.00
409.01
3990
 
Bob McKell
Minni Z
205.89
177.81
383.70
3990
39
Wayne Klapstein
International B-275
126.60
167.73
294.33
3990
73
Val Shillinglaw
Massey Harris 50
127.48
166.23
293.71
3890
 
 
 
 
 
1793.98
 
 
 
 
 
 
 
 
1st Class (under 5000)
 
 
 
 
 
 
 
Tractor #
Driver
Tractor Make
1st Pull
2nd Pull
Total
Weight
62
Terry Dietrich
Farmall M
199.10
131.49
330.59
4990
11
Terry Hanlon
Fordson Major Gas
124.87
113.95
238.82
4990
19
Bob McKell
Oliver 80 Gas
188.88
250.00
438.88
4980
44
Howard Hildebrant
Case 350
223.05
161.90
384.95
4990
67
Wayne Hanson
McCormick Super H
146.18
116.36
262.54
4990
6
Lyle Kause
John Deere B
188.35
165.92
354.27
4960
76
Boris Heshka
Rockoll 98
135.40
153.32
288.72
4950
 
 
 
 
 
 
 
DEMO
Ron Bodnar
John Deere MC
121.91
 
121.91
4430
 
 
 
 
 
2420.68
 
 
 
 
 
 
 
 
2nd Class (under 6000)
 
 
 
 
 
 
 
Tractor #
Driver
Tractor Make
1st Pull
2nd Pull
Total
Weight
4
Terry Hanlon
Fordson Power Major
197.07
175.89
372.96
5970
39
Bob McKell
Oliver 770 Diesel
141.51
134.92
276.43
5980
45
Jim Carter
John Deere 50
145.70
163.26
308.96
5990
50
Howard Fleming
Cockshutt 40
153.84
155.00
308.84
5990
29
Bob McKell
Super 88
175.37
170.50
345.87
5990
 
 
 
 
 
1613.06
 
 
 
 
 
 
 
 
3rd Class (under 7000)
Tractor #
Driver
Tractor Make
1st Pull
2nd Pull
Total
Weight
46
Howard Fleming
Cockshutt 550
192.66
213.69
406.35
6900
10
Terry Hanlon
dOliver 880 Diesel
131.65
179.53
311.18
6990
47
Magnus Hanson
Super M
180.74
248.45
429.19
6880
27
Bob McKell
Oliver 880 Gas
250.00
250.00
500.00
6980
20
Nadine Morawski
Oliver 880 Diesel
154.46
225.32
379.78
6930
 
 
 
 
 
2026.50
 
 
 
 
 
 
 
 
4th Class (under 8500)
 
 
 
 
 
 
 
Tractor #
Driver
Tractor Make
1st Pull
2nd Pull
Total
Weight
54
Howard Fleming
Minneapolis Moline 
85.75
176.83
262.58
8420
 
Shain Michelanko
John Deere 730
86.99
185.47
272.46
8350
58
Gary Adam
John Deere 730
99.54
209.36
308.90
8495
18
Lyle Kause
International W9 Gas
103.63
180.50
284.13
8480
24
Bob McKell
Minniapolis Moline
113.33
250.00
363.33
8490
39
Wayne Klapstein
WD-9
73.30
182.30
255.60
8480
 
 
 
 
 
1747.00
 
 
 
 
 
 
 
 
5th Class (under 10000)
 
 
 
 
 
 
 
Tractor #
Driver
Tractor Make
1st Pull
2nd Pull
Total
Weight
35
James Marrier
Case 900
96.93
171.06
267.99
9930
3
Ron Bodnar
John Deere 820
108.36
168.35
276.71
9980
7
Lyle Kause
John Deere 830 diesel
112.79
182.78
295.57
9950
23
Bob McKell
Oliver 99
122.27
222.21
344.48
9950
40
Jim Carter
John Deere 720
109.64
135.46
245.10
9990
 
 
 
 
 
1429.85
 
 
 
 
 
 
 
 
6th Class (over 11000)
 
 
 
 
 
 
 
Tractor #
Driver
Tractor Make
1st Pull
2nd Pull
Total
Weight
30
James Marrier
Oliver 1900
122.29
122.77
245.06
11990
61
Shain Michelanko
John Deere 830
129.71
129.61
259.32
11800
9
Terry Hanlon
Massey Ferguson 98
117.78
121.65
239.43
11970
29
Bob McKell
Case 930
144.52
121.23
265.75
11990
8
Ron Bodnar
John Deere 830
105.45
116.86
222.31
11930
 
 
 
 
 
1231.87
 
Annual Country Swap Meet and Tractor Pull
First Major LWAS Event Of The Year
The tractor pull is one of the most popular activities held at Leduc West Antique Society. In fact, there is some type of tractor pull at pretty much every event we host! But the big one is the Annual Tractor Pull held every July, in conjunction with the Annual Exposition in July.
Tractor Pulling is basically what it sounds like: antique tractors, built before 1960, pulling a weighted sled as far as they can on a designated track. The tractor that pulls the furthest distance wins the class in which their entered.
Operators must adhere to Leduc West Antique Society Tractor Pulling Rules

The Tractor Pull is open to all contestants. Ribbons and trophies are awarded to event winners. Contact LWAS if you are interested in entering the competition. Each participant is required to pay a $20 hook up fee.

The Swap Meet features a variety of items for sale, including antiques and collectibles, tractors, trucks and car parts, agricultural items, memorabilia, household goods, glassware, toys and more.

Vendors welcome: $30 per table inside Founder's Gallery or $20 per vendor for outside tables.

Breakfast is served starting at 8:00 a.m. with the tractor pulls starting at approximately 9:00 a.m.
 
LWAS Tractor Pull Results
May 2015
Vintage Bantam
Competitor #
Name
Tractor Type
Pull 1
Pull 2
Total
Weight
 
178
Terry Dietrich
Cockshutt 30
233.60
249.20
482.80
3990
1
35
Duane Olson
Oliver 70
187.80
209.30
397.10
3940
2
128
Boris Heshka
1947 Rockoll 77
192.40
185.70
378.10
3880
3
 
Bantam
| | | | | | | | |
| --- | --- | --- | --- | --- | --- | --- | --- |
| Competitor # | Name | Tractor Type | Pull 1 | Pull 2 | Total | Weight |   |
| 184 | Howard Hildebrant | Case VA | 237.00 | 237.50 | 474.50 | 3970 | 1 |
| 59 | Terry Hanlon | Oliver 550 | 235.20 | 211.60 | 446.80 | 3990 | 2 |
| 172 | Dale Miller | Oliver  660 | 215.10 | 213.80 | 428.90 | 3960 | 3 |
Class 1
| | | | | | | | |
| --- | --- | --- | --- | --- | --- | --- | --- |
| Competitor # | Name | Tractor Type | Pull 1 | Pull 2 | Total | Weight |   |
| 10 | Howard Hildebrant | Case 350 | 216.40 | 217.70 | 434.10 | 4980 | 1 |
| 127 | Boris Heshka | Rockall 98 | 216.90 | 198.60 | 415.50 | 4990 | 2 |
| 1 | Lyle Kause | Model B John Deere | 207.60 | 206.90 | 414..50 | 4990 | 3 |
Class 2
| | | | | | | | |
| --- | --- | --- | --- | --- | --- | --- | --- |
| Competitor # | Name | Tractor Type | Pull 1 | Pull 2 | Total | Weight |   |
| 174 | Ron Barker | John Deere Model D | 214.20 | 266.60 | 480.80 | 5980 | 1 |
| 187 | Robert McKell | Oliver Super 88 Diesel | 215.10 | 264.60 | 479.70 | 5940 | 2 |
| 138 | Ken Wood | Farmall Super M | 205.60 | 269.40 | 475.00 | 5960 | 3 |
Class 3
| | | | | | | | |
| --- | --- | --- | --- | --- | --- | --- | --- |
| Competitor # | Name | Tractor Type | Pull 1 | Pull 2 | Total | Weight |   |
| 78 | Ken Wood | Farmall | 245.60 | 262.30 | 507.90 | 6990 | 1 |
| 181 | Howard Fleming | Cockshutt 40 | 246.60 | 234.90 | 481.50 | 6890 | 2 |
| 185 | Ron Barker | John Deere Model D | 242.30 | 234.30 | 476.60 | 6940 | 3 |
Class 4
| | | | | | | | |
| --- | --- | --- | --- | --- | --- | --- | --- |
| Competitor # | Name | Tractor Type | Pull 1 | Pull 2 | Total | Weight |   |
| 20 | Ken Wood | Farmall 560 | 195.30 | 160.60 | 355.90 | 8310 | 1 |
| 19 | Robert McKell | Case 830 | 181.80 | 160.20 | 342.00 | 8420 | 2 |
| 200 | Bob Bevridge | 1953 Co-op E5 | 181.10 | 160.30 | 341.40 | 8320 | 3 |
Class 5
| | | | | | | | |
| --- | --- | --- | --- | --- | --- | --- | --- |
| Competitor # | Name | Tractor Type | Pull 1 | Pull 2 | Total | Weight |   |
| 183 | Howard Hildebrant | Case 500 | 199.70 | 173.90 | 373.60 | 9930 | 1 |
| 130 | Kelly Wolsey | John Deere R | 201.80 | 164.40 | 366.20 | 9580 | 2 |
| 114 | Robert McKell | Case 900 Propane | 185.60 | 179.40 | 365.00 | 9910 | 3 |
Class 6
| | | | | | | | |
| --- | --- | --- | --- | --- | --- | --- | --- |
| Competitor # | Name | Tractor Type | Pull 1 | Pull 2 | Total | Weight |   |
| 126 | Dale Miller | Oliver 990 | 202.90 | 229.30 | 432.20 | 11920 | 1 |
| 176 | Dan Miller | Oliver 990 | 204.30 | 227.60 | 431.90 | 11870 | 2 |
| 43 | Duane Olson | Oliver 990 | 199.00 | 224.90 | 423.90 | 11930 | 3 |
Slow Race
July 2015
Antique Bantam
| Competitor # | Name | Tractor Type | Pull 1 | Pull 2 | Total | Weight | 95 |
| --- | --- | --- | --- | --- | --- | --- | --- |
| 25 | Terry Dietrich | Cockshutt | 229.48 | 198.82 | 428.30 | 3990 | 1 |
| 149 | Boris Heshka | Rockoll Model B | 229.90 | 184.40 | 414.30 | 3940 | 2 |
| 36 | Duane Olson | Oliver 70 | 184.64 | 170.15 | .354.79 | 3910 | 3 |
Bantam
| Competitor # | Name | Tractor Type | Pull 1 | Pull 2 | Total | Weight |   |
| --- | --- | --- | --- | --- | --- | --- | --- |
| 33 | Terry Hanlon | Oliver 550 | 242.38 | 196.41 | 438.79 | 3990 | 1 |
| 49 | Dale Miller | Oliver 660 | 210.88 | 195.36 | 406.24 | 3960 | 2 |
| 37 | Hal Lougheed | Oliver 550 | 183.42 | 220.52 | 403.94 | 3990 | 3 |
Class 1
| Competitor # | Name | Tractor Type | Pull 1 | Pull 2 | Total | Weight |   |
| --- | --- | --- | --- | --- | --- | --- | --- |
| 120 | Boris Heshka | Rockoll 98 | 174.89 | 161.87 | 336.76 | 4990 | 1 |
| 52 | Terry Hanlon | Fordson Major | 170.52 | 160.57 | 331.09 | 4990 | 2 |
| 48 | Duane Olson | Oliver 88 | 172.85 | 154.35 | 327.20 | 4990 | 3 |
Class 2
| Competitor # | Name | Tractor Type | Pull 1 | Pull 2 | Total | Weight |   |
| --- | --- | --- | --- | --- | --- | --- | --- |
| 80 | Ken Wood | Super MTA | 171.06 | 158.48 | 329.54 | 5950 | 1 |
| 115 | David Lougheed | Oliver Super 88 | 166.44 | 160.49 | 326.93 | 5910 | 2 |
| 82 | Ken Wood | International Super M | 163.51 | 162.80 | 326.31 | 5950 | 3 |
Class 3
| Competitor # | Name | Tractor Type | Pull 1 | Pull 2 | Total | Weight |   |
| --- | --- | --- | --- | --- | --- | --- | --- |
| 54 | Howard Hildebrant | 1958 Case 800 | 202.16 | 206.54 | 408.70 | 6920 | 1 |
| 68 | Ken Wood | Farmall Super M | 187.89 | 188.60 | 376.49 | 6990 | 2 |
| 96 | Ron Barker | John Deere Model D | 193.49 | 182.87 | 376.36 | 6950 | 3 |
Class 4
| Competitor # | Name | Tractor Type | Pull 1 | Pull 2 | Total | Weight |   |
| --- | --- | --- | --- | --- | --- | --- | --- |
| 116 | Jared Nafziger | McCormick WD9 | 187.44 | 242.16 | 429.60 | 8500 | 1 |
| 159 | William Crocker | Minneapolis GB | 218.26 | 204.10 | 422.36 | 8490 | 2 |
| 19 | Ron Bodnar | John Deere 720 LPG | 200.96 | 203.83 | 404.79 | 8170 | 3 |
Class 5
| Competitor # | Name | Tractor Type | Pull 1 | Pull 2 | Total | Weight |   |
| --- | --- | --- | --- | --- | --- | --- | --- |
| 21 | Robert McKell | Case 900 Diesel | 221.38 | 154.35 | 375.73 | 9960 | 1 |
| 65 | Ken Wood | International 660 | 154.42 | 189.19 | 343.61 | 9990 | 2 |
| 111 | Jared Nafziger | W9 IH | 166.19 | 160.98 | 327.17 | 9990 | 3 |
Class 6
| Competitor # | Name | Tractor Type | Pull 1 | Pull 2 | Total | Weight |   |
| --- | --- | --- | --- | --- | --- | --- | --- |
| 144 | Anna Harapchuk | International 660 | 113.81 | 121.60 | 235.41 | 11900 | 1 |
| 61 | Dale Miller | Oliver 990 | 107.10 | 116.61 | 223.71 | 11930 | 2 |
| 51 | Terry Hanlon | Massey Ferguson | 104.89 | 118.57 | 223.46 | 11880 | 3 |
September 2015 - Provincial Championships
Vintage Bantam
| Competitor # | Name | Tractor Type | Pull 1 | Pull 2 | Total | Weight |   |
| --- | --- | --- | --- | --- | --- | --- | --- |
| 64 | Terry Dietrich | Cockshutt 30 | 161.52 | 202.85 | 364.37 | 3990 | 1 |
| 48 | Boris Heshka | Rockall 77 | 174.52 | 178.75 | 353.27 | 3940 | 2 |
| 40 | Bernie Briggs | Cockshutt 30 | 169.71 | 177.86 | 347.57 | 3920 | 3 |
Bantam
Competitor #
Name
Tractor Type
Pull 1
Pull 2
Total
Weight
 
86
Howard Hildebrant
Case VA
189.46
207.59
397.05
3970
1
84
Dave Lougheed
Oliver 550
163.17
200.84
364.01
3970
2
7
Hal Lougheed
Oliver 550
165.16
195.48
360.64
3980
3
 
Class 1
Competitor #
Name
Tractor Type
Pull 1
Pull 2
Total
Weight
 
65
Dave Sandin
John Deere 50
190.57
250.00
440.57
4990
1
23
Howard Hildebrant
Case 351
180.64
250.00
430.64
4970
2
93
Lyle Kause
John Deere Model B
161.77
250.00
411.77
4990
3
 
Class 2
Competitor #
Name
Tractor Type
Pull 1
Pull 2
Total
Weight
 
44
Ken Wood
Super MTA
180.81
231.57
412.38
5950
1
74
George Frieser
Fordson Major Diesel
162.75
235.92
398.67
5920
2
88
Len Aucoin
Oliver 88
179.78
213.54
393.32
5990
3
 
Class 3
Competitor #
Name
Tractor Type
Pull 1
Pull 2
Total
Weight
 
97
Ken Wood
International Super M
163.71
250.00
413.71
6990
1
32
Howard Fleming
Cockshutt 40
181.15
219.66
400.81
6890
2
95
Ron Barker
John Deere D
177.27
223.02
400.29
6970
3
 
Class 4
Competitor #
Name
Tractor Type
Pull 1
Pull 2
Total
Weight
 
68
Ken Jones
Cockshutt 50
199.21
250.00
449.21
8460
1
38
Howard Fleming
1954 Minneapolis
229.80
214.55
444.35
8420
2
29
Ken Wood
International 560
188.30
250.00
438.30
8360
3
 
Class 5
Competitor #
Name
Tractor Type
Pull 1
Pull 2
Total
Weight
 
36
Daniel McGinn
Case 500
169.58
165.23
334.81
9730
1
76
Robert McKell
Case 900 Diesel
148.27
171.18
319.45
9930
2
94
Robert McKell
Case 900 Propane
148.82
168.89
317.71
9950
3
 
Class 6
Competitor #
Name
Tractor Type
Pull 1
Pull 2
Total
Weight
 
22
Russ Langston
International 660
177.57
214.67
392.24
11990
1
78
Lyle Kause
John Deere 830
167.62
210.42
378.04
11930
2
34
Ken Norman
John Deere 830
158.99
202.43
361.42
11970
3
 
Next Country Swap Meet and Tractor Pull scheduled for May 23rd, 2015