In light of the Covid-19 Virus still around us and with the restrictions on public gatherings,  LWAS has decided to cancel all events at LWAS till December 2020, our Country Xmas Light Display. We hope by then we will be over the epidemic.
The Fall Country Harvest will be on September 12, 2020.
2019 Fall Country Harvest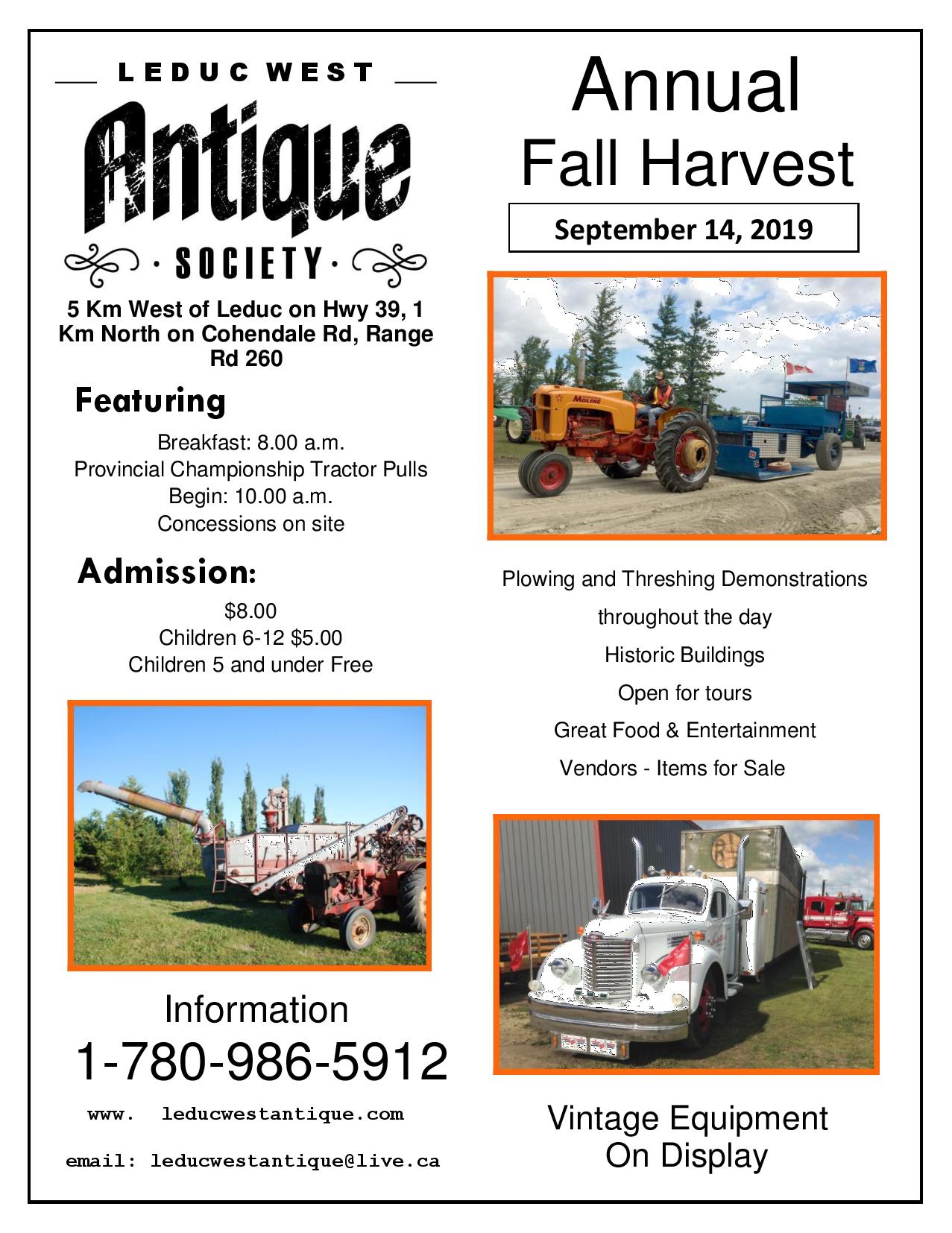 The LWAS 2018 Annual Fall Harvest has been cancelled due to the weather.  Please check our website soon for 2019 events and functions.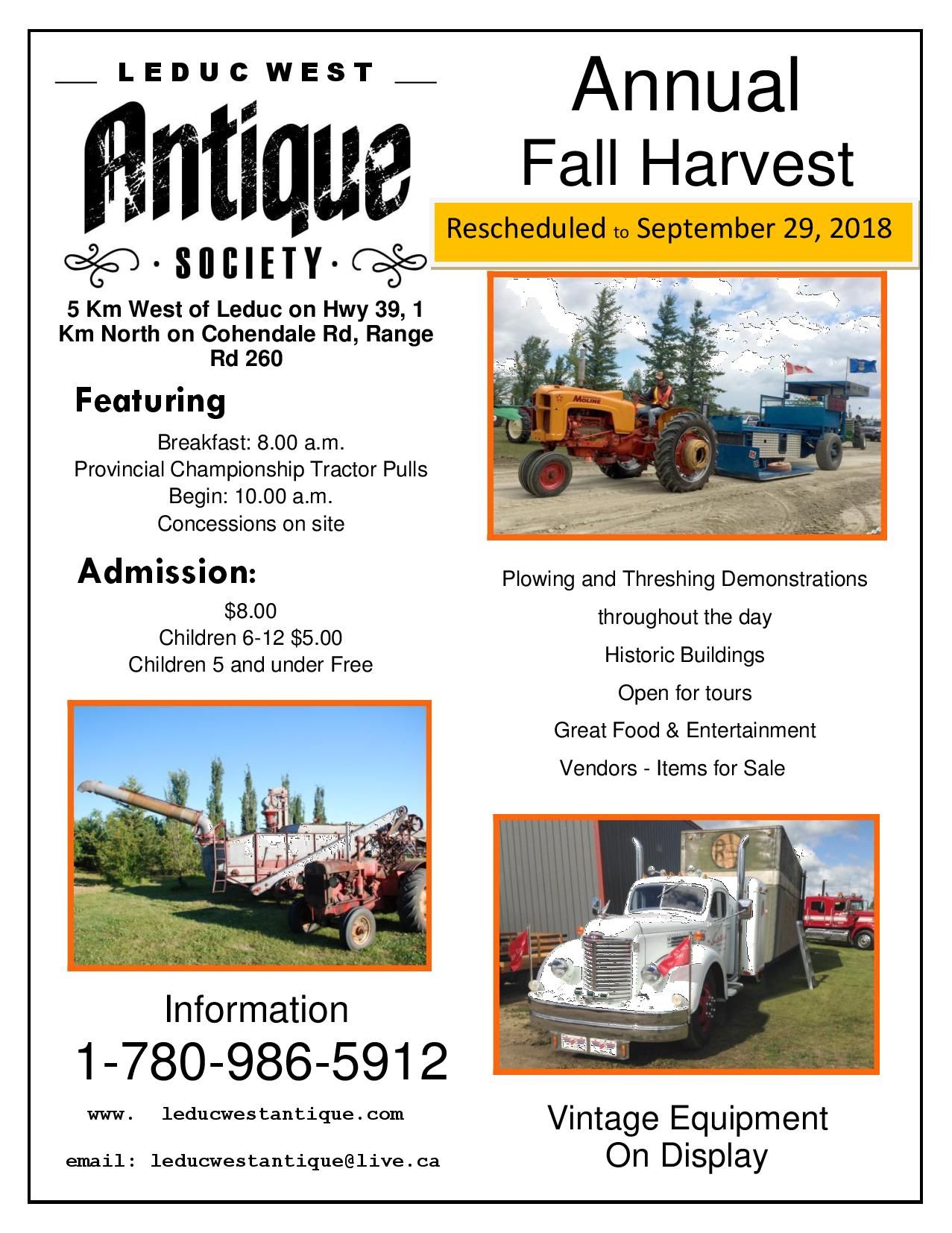 Please Note: The LWAS Annual Country Harvest has been postponed until September 29, 2018!!!
2018 Fall Country Harvest - September 15, 2018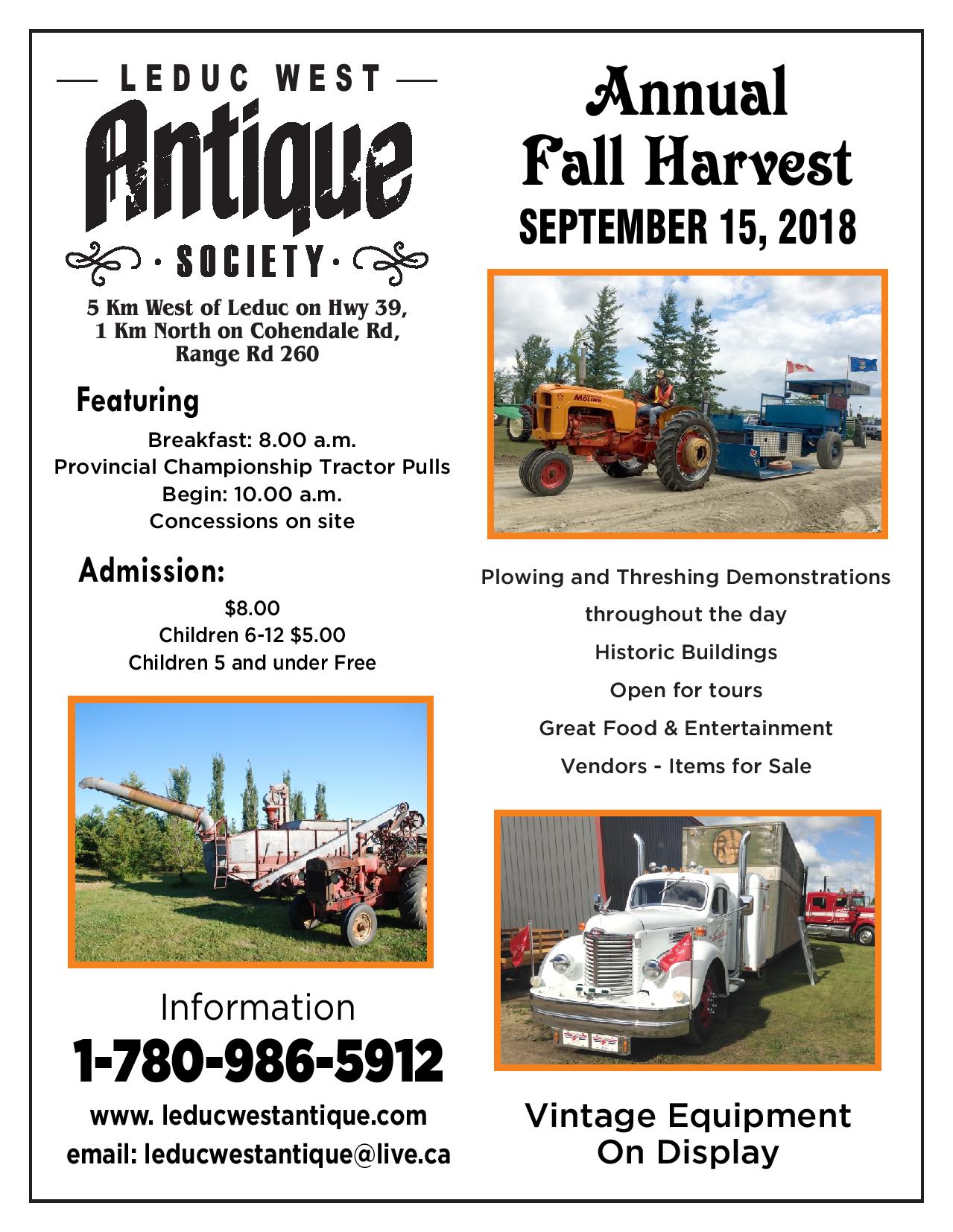 2018 Country Harvest
September 15, 2018 - Leduc West Antique Society Fall Harvest and Tractor Pull
Individuals who have placed 1st, 2nd or 3rd at Pulls in the Province are welcome to participate.  
We use the honour system, so if you have not qualified, you can not pull.
Details to follow.  
The events for 2018 are:   May 26, 2018 :            Swap Meet & Tractor Pull
                                            July 21 & 22, 2018:     28th Annual Exposition - Featuring Minneapolis Moline Tractors & Equipment
                                           September 15, 2018:    Fall Harvest & Tractor Pull
Country Harvest
Saturday, September 9, 2017
Join us for an exciting day of interactive demonstrations, featuring antique farm equipment. All of our restored and replica buildings will be open for you to explore. You'll be amazed at the collection of artifacts displayed throughout the park.
The Provincial Antique Tractor Pull Championships are always a highlight of the Country Harvest. You won't want to miss the show as expert tractor pullers from all over Alberta compete in different weight categories.
There will be a concession on site operating throughout the day.
8:00 a.m.   Pancake Breakfast - $5.00
10:00 a.m. Tractor Pulls, Historic Buildings Open for Tours, Vendors Open, Sawmill Demonstration
10:30 a.m. Cinnamon Buns baked in Clay Oven - $5
10:30 a.m. Plowing Demonstration
11:00 a.m. Threshing & Baling Demonstration
12:00 a.m. Pizza Baked in Clay Oven - $5
2:30 p.m.  Plowing Demonstration
3:00 p.m. Threshing & Baling Demonstration
4:30 p.m. Vendors Close
There are ongoing demonstrations throughout the day: Blacksmith Shop, Edmonton Power Historical Foundation
The Jigger train and Barrel train will be operating from 10 a.m. for rides.
 
Admission: Adults (13+) - $8
                   Youth (6 - 12) - $5
                   5 and under are free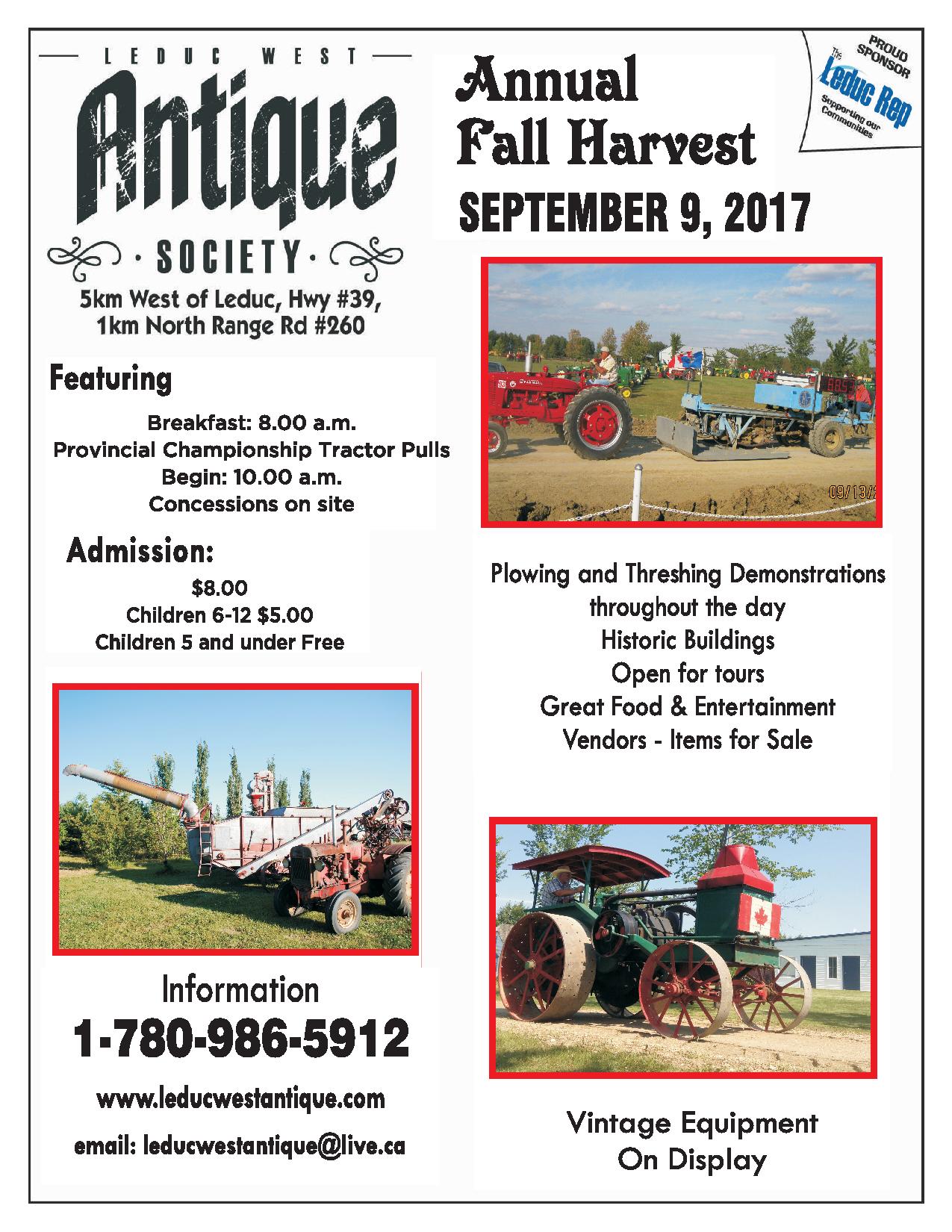 Exhibitors welcome
Participants in the tractor pull are required to sign a waiver and are encouraged to obtain their own insurance coverage. Since these are the Provincial Championships, in order to participate you must have placed in another sanctioned tractor pull in the year