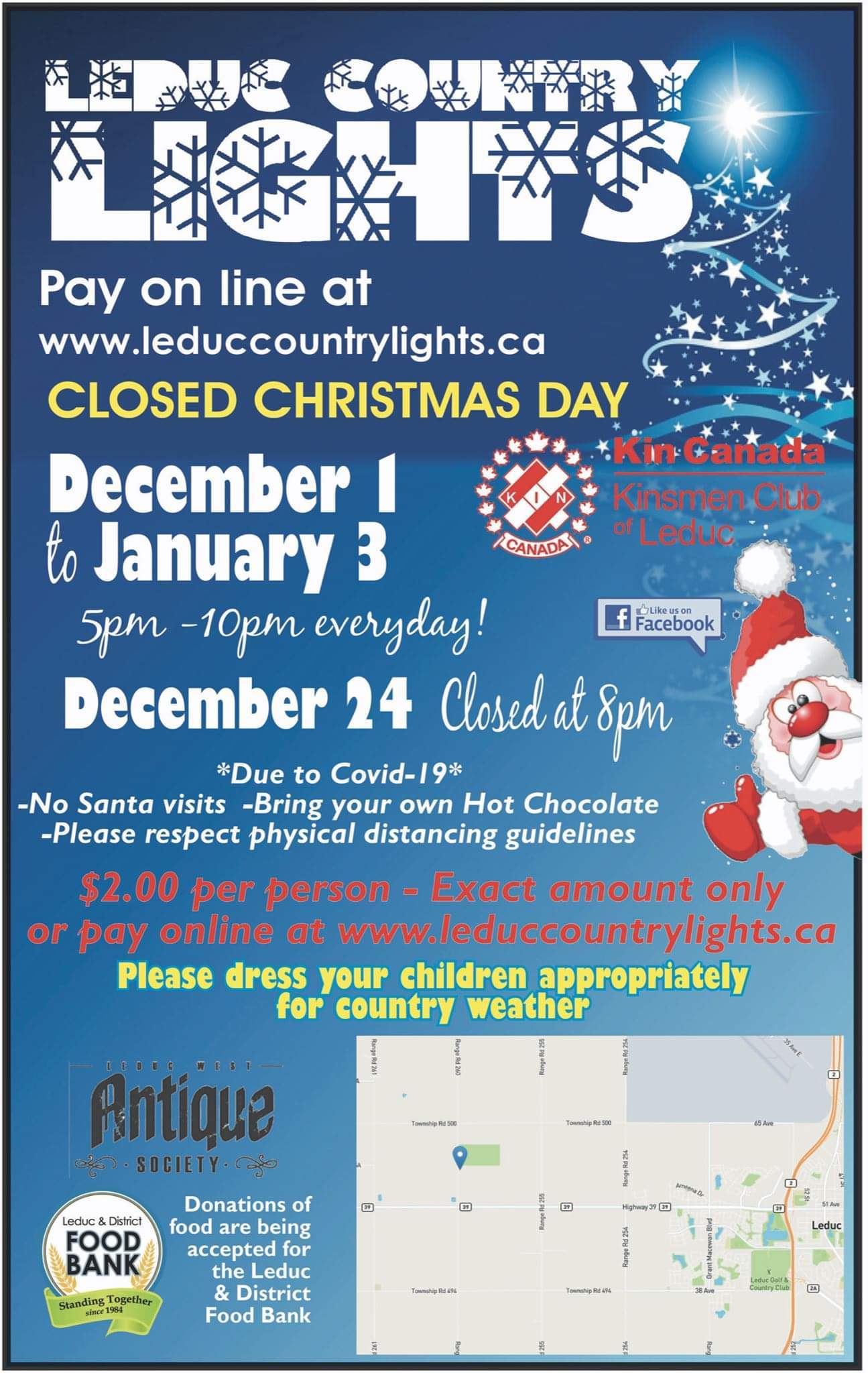 Leduc Country Lights - LWAS with the Kinsmen Club of Leduc are pleased to present the Leduc Country Lights - December 01, 2020-January 03, 2021 from 5 PM-10PM daily (Closed December 25, 2020).  Cost is $2 per person.  For more information www.leduccountrylights.ca.  
Leduc West Antique Society 2020 Events Scehdule
Leduc West Antique Society Spring Tractor Pull - May 23, 2020
Leduc West Antique Society 30th Annual Exposition featuring John Deere - July 18 & 19, 2020
Leduc West Antique Society Fall Provincial Tractor Pull and Harvest - September 12, 2020
Leduc West Antique Society Country Light Show - November 28-December 31, 2020 
Save the Dates!  We look forward to seeing you in 2020!
Leduc Country Lights
In 2018 the family behind Leduc Country Lights announced it was their final season hosting the brilliant Christmas display that had delighted guests for a decade. Now, another group has stepped forward to allow the tradition to live on. The Ruel family has donated all their lights and decorations to the Kinsmen Club of Leduc, which will set up the display in a new home - the Leduc West Antique Society outdoor heritage museum. The display will be set up from November 30 to January 1, 2020. Admission will cost $2, which will be put toward maintenance. Donations for Leduc's Food Bank will also be accepted on site.
When: November 30, 2019 to January 1, 2020
Time: 5 pm to 10 pm
Closed Christmas Day
Volunteer Appreciation Night & LWAS Annual General Meeting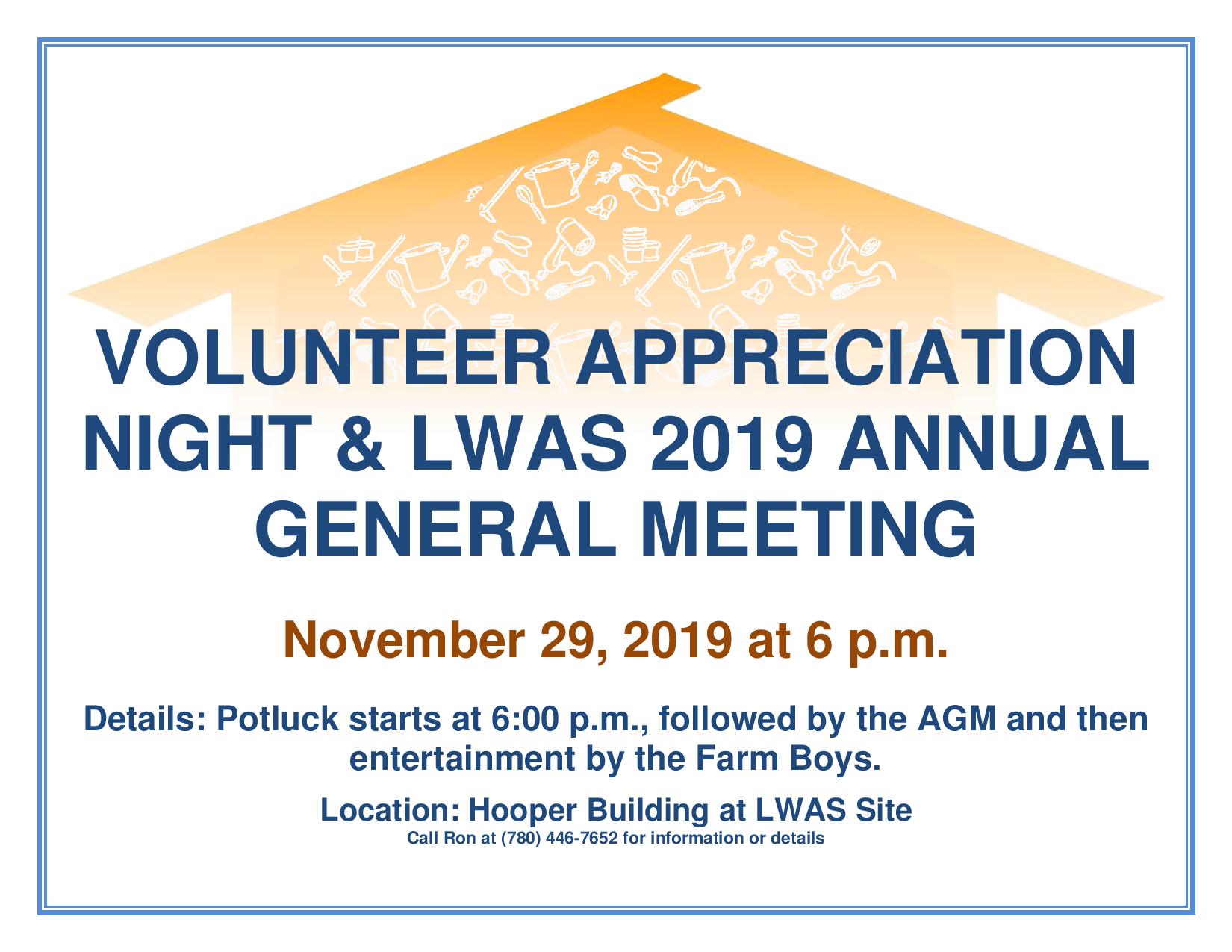 Annual Fall Harvest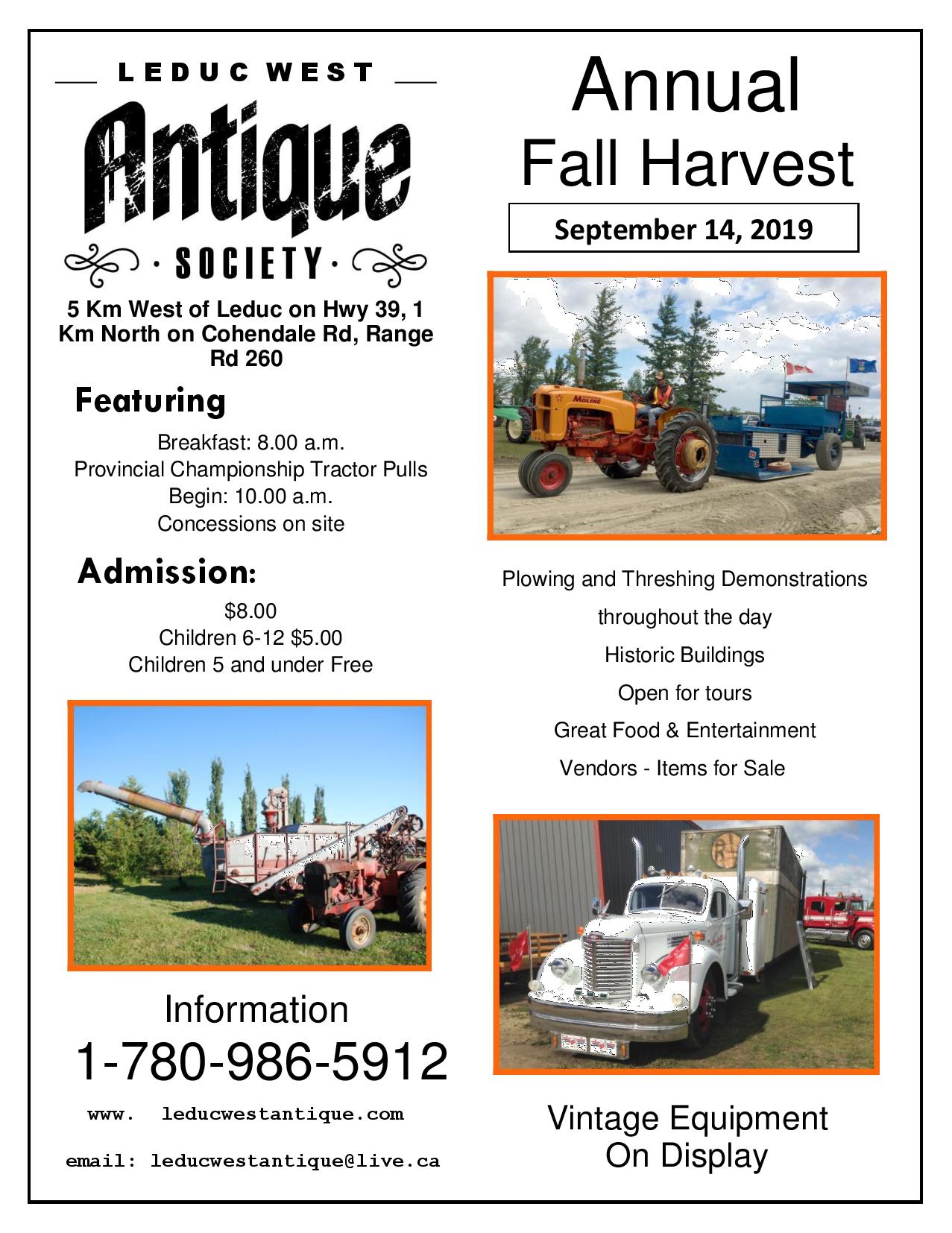 Leduc West Antique Society Expo, July 20 & 21, 2019, Items of Note for Pullers
Tractor pulls start Saturday and Sunday @ 10:00 AM.

Weigh-in times, Thursday late afternoon, Friday 3:00 till early evening and Saturday morning at 7:30. We recommend that pullers try to weigh their tractors by Friday to avoid a late start Saturday.

Tractor hook-up fee, $20.00 per driver, no limit as to how many tractors a driver may register. The fee is to cover cost of track maintenance, sled maintenance and trophies/ribbons. The fee also covers admission for the driver and spouse, other passengers travelling with the driver must pay the $12.00 per person entrance fee.

Drivers must supply their own insurance coverage and sign our waiver form when registering.

 Drawbar height is 18"

Phone numbers, Ron @780-446-7652 or Robert @ 780-289-2557
29th Annual Exposition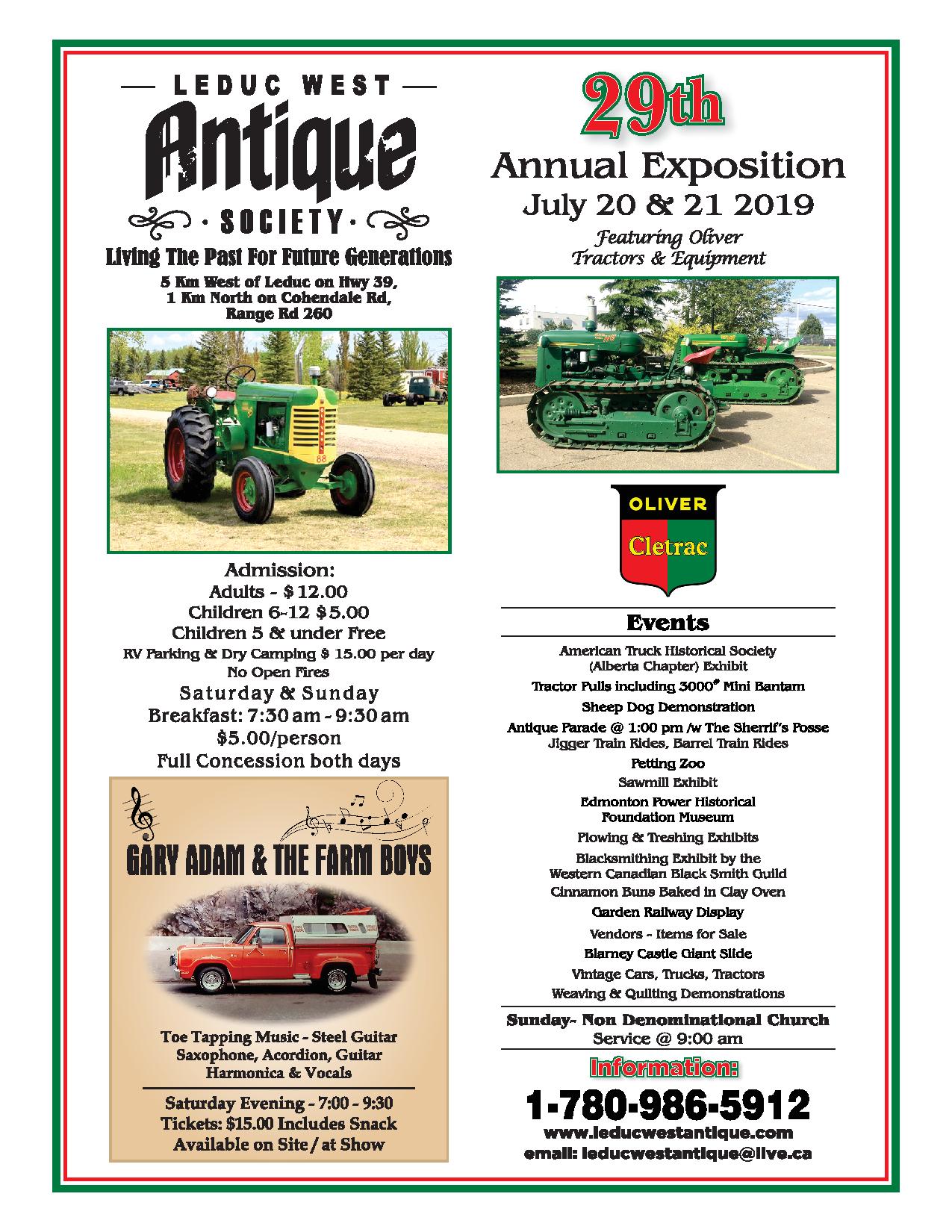 Spring Tractor Pull 2019 Details
The pull dates are May 25 and 26, 2019.
Registration, Friday, May 24, 4:00 p.m. until dark, Saturday, until 9:00am, for Sunday's Pull we will have weigh in late Saturday and early Sunday. Pulls should start at 10:00 a.m. both days. Weather permitting, there should be 2 pulls on both days. Should weather not permit 2 pulls either day, we may take only the top several tractors in each class to complete the day(s).

We are charging $20.00 per puller, one fee for both pulls, this fee covers a puller and one partner, a party of 4 persons in a puller's vehicle would require 2 persons to pay the $5.00 gate admission.

 Saturdays Pull - this is the Fall Provincial Pull and only tractors that placed 1, 2, or 3 in 2018 qualify. We will use the honour system and we hope that a tractor that pulled in 2018 did not get a workover by the spring of 2019. 

Sunday's Pull will be open to everyone, our first Pull of the 2019 season.

Insurance - we will have a claim form for pullers to sign confirming insurance coverage by the puller, LWAS does not cover individual persons for insurance.

Admission is $5.00 per person per day, children 12 and under at no charge.

Breakfast is being served both days, $5.00 per person, 8:00 am till 10:00 am

Concession open both days after breakfast.

Swap meet - vendors will be open both days.
2019 Tractor Pull & Swap Meet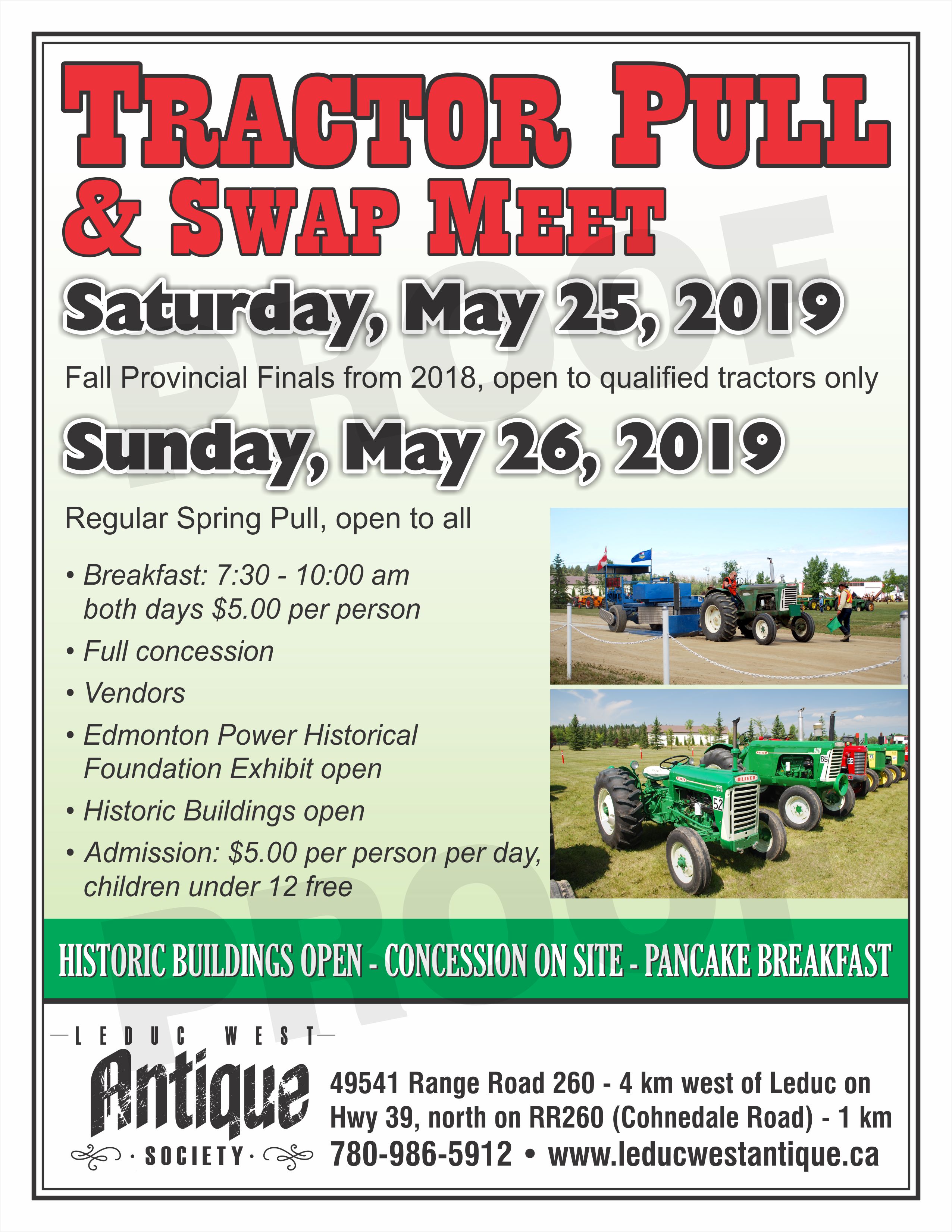 2019 Events
May 25 & 26, 2019 - Fall Country Harvest (Rescheduled) & Spring Pull
July 20 & 21, 2019 - Annual Exposition
September 14, 2019 - Fall Country Harvest
Annual General Meeting 2018
Annual General Meeting for LWAS is on Friday, November 16, 2018.  Potluck starts at 6:00 p.m., followed by the AGM and then entertianment by the Farm Boys.  
The LWAS 2018 Annual Fall Harvest has been cancelled due to the weather.  Please check our website soon for 2019 events and functions.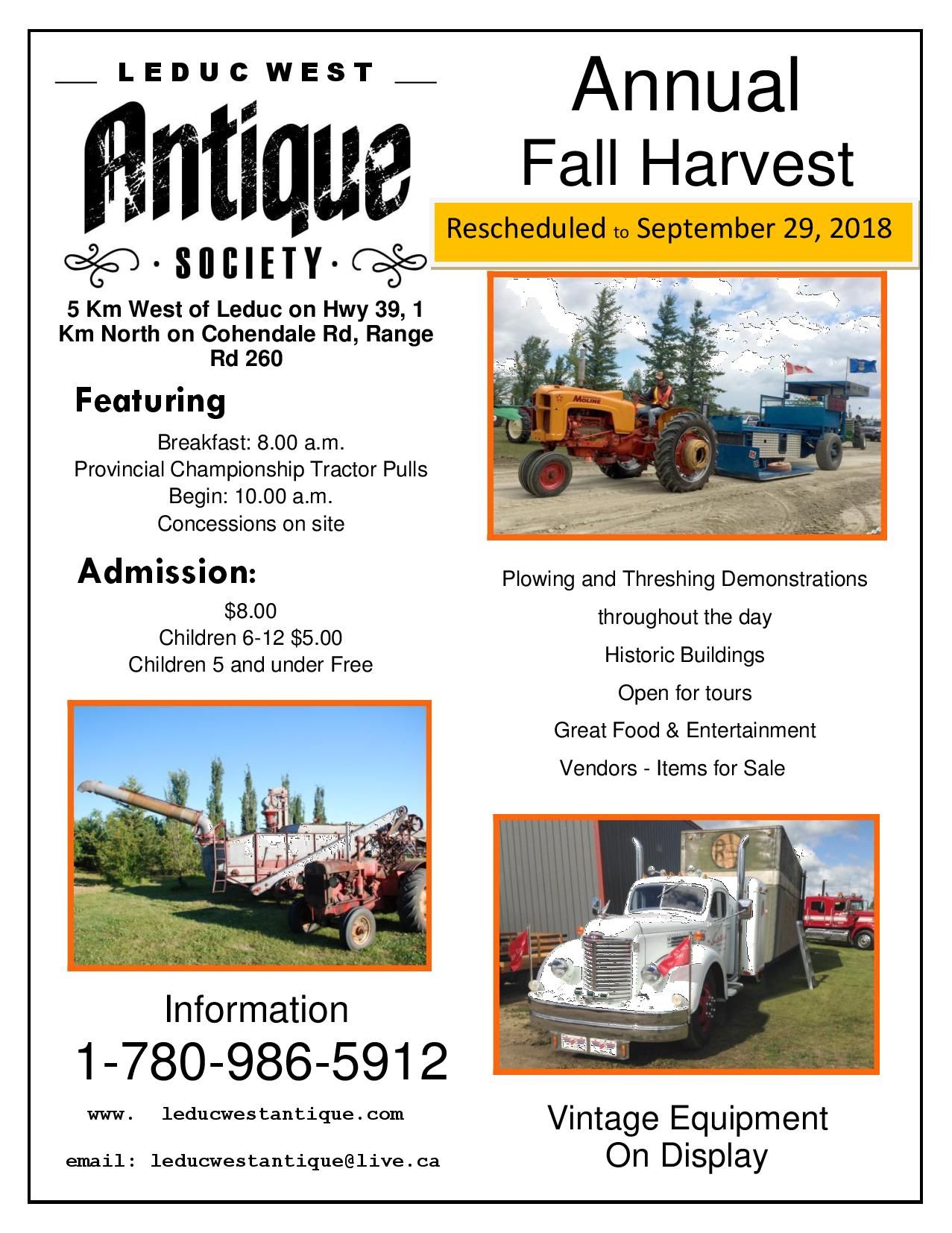 2018 Fall Country Harvest - September 15, 2018
Please Note: The LWAS Annual Fall Harvest has been postponed until September 29, 2018!!!



2018 Country Harvest
September 15, 2018 - Leduc West Antique Society Fall Harvest and Tractor Pull
Individuals who have placed 1st, 2nd or 3rd at Pulls in the Province are welcome to participate.  
We use the honour system, so if you have not qualified, you can not pull.
Details to follow.
28th Annual Exposition - July 21 & 22, 2018 - featuring minneapolis moline tractors and equipment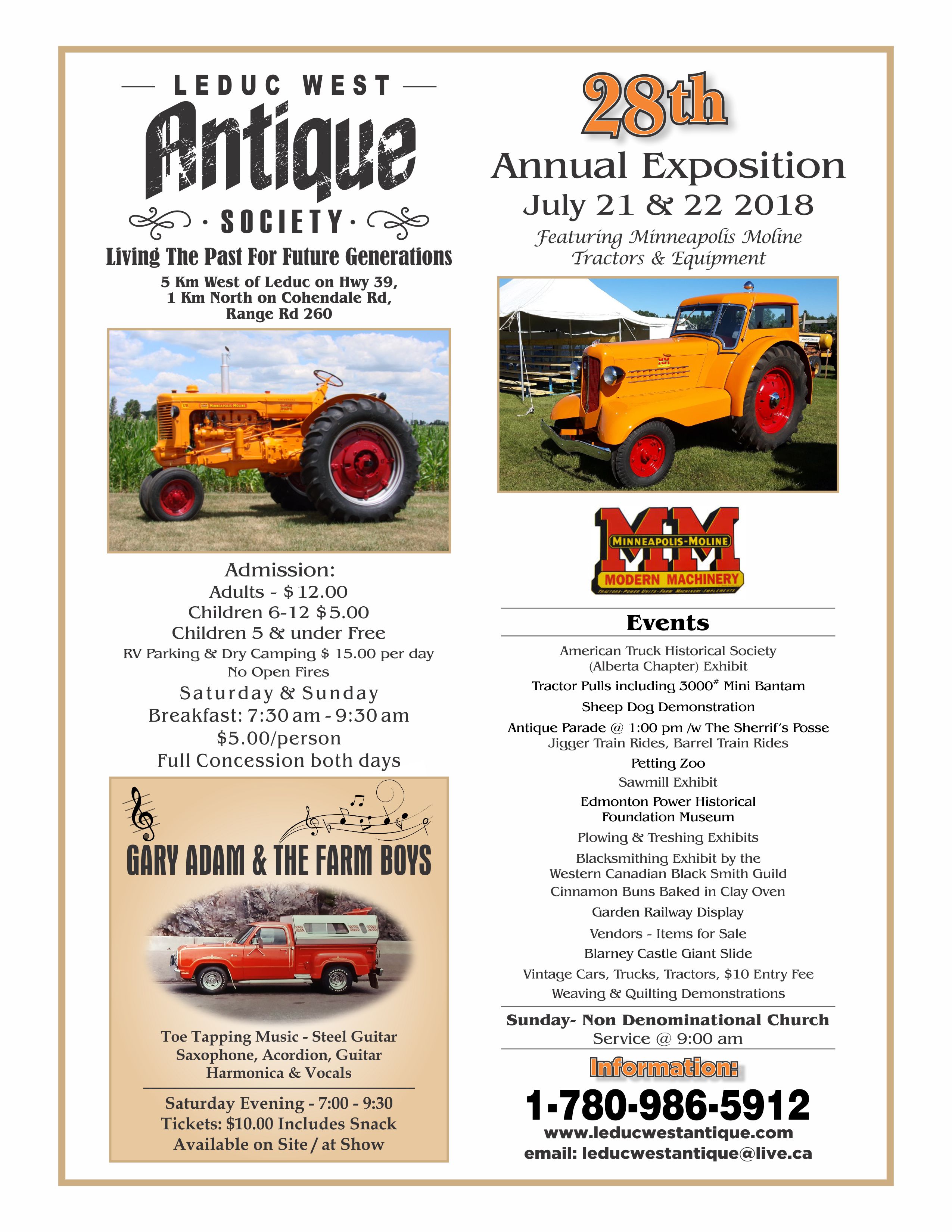 Swap Meet & Tractor Pull - Saturday, May 26, 2018
"‹"‹Vendors selling collectibles, antiques, memorabilia, arts & crafts, tractors and equipment, car & truck parts, and MORE!
"‹Tractor Pulls - 1960 & older - start @ 10:00 aM
Breakfast @ 8:00 AM - Concession open
"‹Look for our advertisement in the Leduc Representative and the Leduc-Wetaskiwin County Market!
The events for 2018 are:   May 26, 2018 :            Swap Meet & Tractor Pull
                                            July 21 & 22, 2018:     28th Annual Exposition - Featuring Minneapolis Moline Tractors & Equipment
                                           September 15, 2018:    Fall Harvest & Tractor Pull
Museum puts local history at your fingertips
Events showcase vintage farm tools and techniques
Leduc West Antique Society loves to host great events that bring the community together. You are invited to join them for the annual May Tractor Pull and Swap Meet, the July Exposition and the Country Harvest in September.
Every event LWAS hosts offers something for the whole family to enjoy, as well as a chance to tour the park and take in the historic and replica buildings, the many antiques and collectibles on display and demonstrations of tools and techniques that are rarely practiced any more.
If you've got something to sell, LWAS welcomes vendors with all kinds of home made goods, produce and food items. Contact the society for more information.
The events for 2017 are:   May 20, 2017 :            Swap Meet & Tractor Pull
                                            July 22 & 23, 2017:     27th Annual Exposition - Featuring Rumley
                                                                                  http://www.leducwestantique.com/?content/july-annual-exposition.html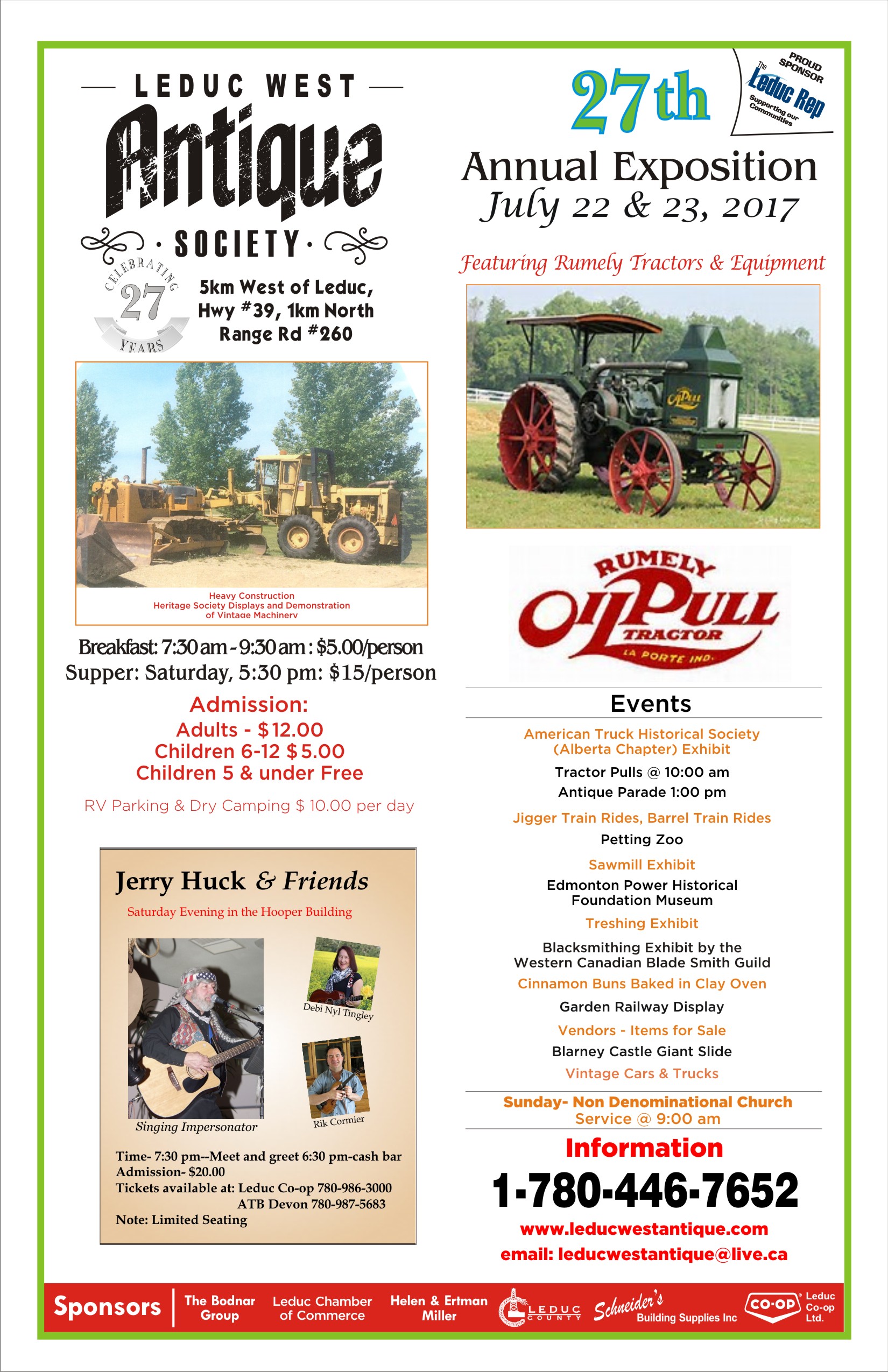 September 9, 2017:   Fall Harvest & Tractor Pull